Strangers With Candy
Season 2 (Comedy Central)
By: Ryan O'Neill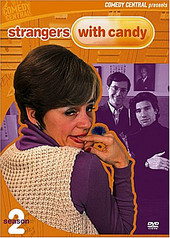 Ahh, Strangers With Candy. You will always hold a special place in my heart. Perfectly offensive in every way. Oh how much I love you, you stupid junkie whore.

Alex already went over the gist of the show in his season one review, so I won't try and rehash all that bullshit. This is Season Two. If you didn't like season one then don't bother.

Like most people, I ignored this show when it first came premiered. Just seeing the commercials had me repulsed. Why would I want to watch a show where the main character is an ugly girl? That goes against everything I stand for. BUT THEN, one fateful late evening, I was computing away and had Comedy Central on in the background, to which I was paying little-to-no attention. All of the sudden, my ears perked up as I heard someone getting pissed off at his sibling and goes to attack her, but stops mid-way, sits back down and says: "You're so glad I have an erection right now."

That one line was enough to turn my head (I forget which episode it was, somewhere in the first season I think). Then when Jerri, the main character I so thought I despised, started continually making vague references to sexual encouters with the hot teenage girls at her school, I knew I was hooked. And I've been obsessed ever since.

Fun SWC factoid: it remains the only show to have it's lead character recite the line: "Pee on me" (to another girl, mind you)

I love season two. My favorite episode, perhaps of the entire series, is "The Goodbye Guy," where Jerri's father dies and all the characters have to deal with their own feelings of loss. Stephen Colbert, who plays Mr. Noblet, reveals on the commentary for this episode that this was the episode where his parents _stopped_ watching. This episode proved, at least to me, that _death_ is Funny.
This one time daddy and I went to the circus, and just when we entererd the big top the sky-wire came loose and snapped around like a bull-whip slicing this one clown Bongles in two. And just before he died, his top half said: "let me see my wife and children." Life's like that: one moment you're planning on spending some quality time with your daddy, and the next minute, you're watching two small, dead clowns...

In another of my favorites, Behind Blank Eyes, Jerri befriends the new blind student, who is having a hard time joining the football team.

- Listen, nobody wants you on the team.
- Why? I'm a good athlete, I just happen to be a little different.
- Yeah, but... NO, you're confusing us! Let's go watch some gay porn so we can get our heat back.

Anyway, back to the DVDs, there's some funny-ass commentary on 4 episodes by the creators/writers/stars Amy Sedaris, Stephen Colbert and Paul Dinello. Wish there was commentary on more of them.. oh well :(

They also graciously included the reunion/interview thing they did at New York City's Museum of TV & Radio after the series had been cancelled. Pretty much everyone was there, if not on stage then in the audience. On stage they of course had Amy, Stephen and Paul, plus Greg Hollimon, aka Principal Blackman, and executive producer Kent Alterman. They go over everything about the show, from it's origins to why it was cancelled, a possible feature film (!) and end it up with some audience Q & A. As a fan (obsessive-like), just having this one extra makes the DVD worth the price.