Strangers With Candy
Season 1 (Comedy Central)
By: Alex Steininger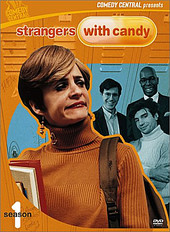 Jerri Blank (played by Amy Sedaris) is everyone's favorite 46-year-old high school freshman who, after being a self-proclaimed "user, boozer, and loser", picks her life back up from exactly where she left off: being a 15-year-old high school freshman.

Paul Dinello plays high school teacher Geoffrey Jellineck, Stephen Colbert plays high school teacher Charles "Chuck" Noblet, and Gregory Hollimon plays Principal Onyx Blackman.

Together, four main cast blow a hole through the stereotypical after-school drama, mocking and belittling with biting satire the lessons and trivial revelations the character makes at the end of each episode, about their life, family, and friends.

Each episode ends with Jerri learning a hilarious lesson (and, her dancing).

In the first season, Jerri uses her knowledge of drugs to become popular. She rats out the school retard to go on a class trip, and decides she's not ready to be a parent despite all the abortions she's had. Plus, she tries to become homecoming queen, and Noblet discovers Jerri's a violin prodigy and uses her to become the star he always wanted to be. Plus, watch a Jerri joins the debate team. All with plenty of comedy.

The funniest moment throughout the whole 2-disc DVD collection (which, don't get me wrong, is filled with plenty of laughs), is the very politically incorrect moment in episode 4, "Who Wants Cake?", where Jerri's mom calls the principal "Black Man" and he responds, "It's Blackman".

Bonus features include audio commentary from Colbert, Dinello, and Sedaris, as well as the first, un-aired pilot episode.

Sedaris gives a stand-up performance each time out, and leaves other shows in the dust. Watch as this cult classic is re-lived through the miracle of DVD. I'll give it an A+.