INTERVIEW: Goddamn Gentlemen
Punk Rock's Kyle Huth Sits Back and Talks About The Goddamn Gentlemen, Portland, and Life (Uppercut Records)
By: Angelo de Ieso II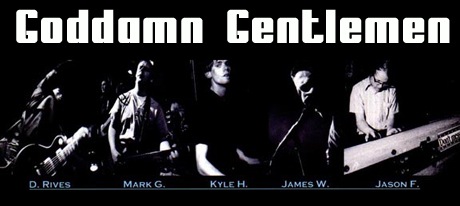 Uppercut Records is downright ecstatic to present The Goddamn Gentlemen and their explosive new release entitled Sex-Caliber Horse Power. These five Portland boozehounds reek of the Northwest. They deliver their Sonics-influenced, farfisa crazy, dual guitar driven wall of sound with all the subtlety of a shovel to the head. Thirteen highly charged and temperamental songs of crime, booze, cars, & blood that attacks with the reckless abandon of a mental patient on PCP - switches gears to cool, collected, moody, confident, almost intellectual moments - before blasting back to hell in a distorted frenzy. If there's any other band today playing garage rock of this caliber - we're not aware of them. This album will have the punks, gearheads, and garage scenesters bowing to the now sound of The Goddamn Gentlemen.

My friend Kyle Huth of the Goddamn Gentlemen and Fist City (two of the most bad-ass P-town bands) took a moment to talk about his adventures in drumming. The Gentlemen are a whiskey-fueled, balls-to-the-wind garage outfit known for their deafening debauchery and ass-shaking riffs. On the other side of the spectrum, Fist City is a countrified group with a feminine touch, Up-right bass, and whiskey sipping sensibilities (versus the Gentlemen's whiskey slamming sensibilities). However, it is not to be mistaken that Fist City is "that whiny emo shit." No siree. Kyle took a moment to break it down for me--here's how the interview went:

Angelo: Two great bands. Like apples and oranges I suppose. What is it like playing in two bands that are so dissimilarly sounding?

Kyle: It's cool. It's really difficult to separate bands from the process of being in them. The years of playing and the times of being really aware that the music is moving to another level as well as nights where everything just sucks are all part of how I think about the bands. And somewhere between making grand leaps and sucking is how both bands have always operated- refining what we're doing and doing things hopefully a little better.

Angelo: Do you think there is a "Portland scene"? If so, how would you describe it?

Kyle: The Portland scene or whatever you want to call it is great. That word kind of conjures up the image of a really closed group with a myopic vision and aesthetic and though that stuff exists, I'm not a part of it. the people that I consider close I would say put a premium on good music and don't really have an agenda beyond that.

Angelo: There's a lot of different genres--

Kyle: I think the playing field is pretty wide here - and there are some incredible people playing some incredible music here. I don't take that for granted.

Angelo: You are a phenomenal drummer (kissing Kyle's ass). What inspired you to become a drummer?

Kyle: I was a late starter. I messed around a little bit in high school and was always a huge record buyer but I didn't get a kit until I was in my twenties. I've been playing now for almost ten years and I still get super excited just to sit down and play and learn new stuff. really, just thinking about it I wish I had sticks in my hand.

Angelo: What shows are most memorable for you?

Kyle: Playing at EJ's with the Silver Kings on a weeknight with hardly anyone there remain some of my favorite shows. In fact, almost every show the Goddamn Gentlemen played at EJ's would probably be a favorite show. We were just figuring out how to play well and that was a really fun time.

Angelo: What about local bands? Who has been fun to play with around Rose City?

Kyle: The Heavy Johnson Trio were like the hugest rock stars to me- and the Dickle Brothers and Umberhulk were so good. Then the Fireballs and Lopez moved to town. That era seems like an endless party that was actually fun- a really special time. It's still great to play with the Fireballs and we haven't played with the Heavy Johnsons or Lopez in a while but I sill love those guys. There are actually a lot of bands here in town I like a lot that I would like to play with but haven't - I would really be into playing shows that reflected the variety of things happening in Portland. it makes going to a show a lot more interesting when you're not watching four bands with the same influences--and playing with Dead Moon was incredible. That meant an incredible amount to us- they've refined what they do to an art form and play with such a beautiful and passionate abandon. They are incredible- and they live right here. it always blows me a way that I can see one of the best bands in the world so often in a club right here.