INTERVIEW: Goddess Severina
Queen of the Halloween Ball (Severina Productions)
By: Jett Black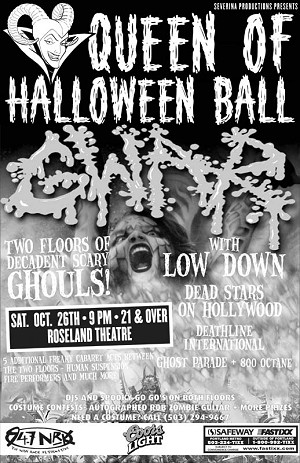 IMWT: Please tell us about the Main Event for this Halloween, namely the Queen of Halloween Ball. When and where will this event occur?

Goddess Severina: October 26th @ the Roseland Theater on the corner of 6th & Burnside in downtown Portland, Oregon. Doors at 8 pm The show starts @ 9 pm.

IMWT: What's on the Queen of Halloween menu of featured attractions?

Goddess Severina: 2 Floors with 6 bands, 5 cabaret acts, 10 Go-Go girls, and 4 dj's.

IMWT: Who will be performing upsatirs?

Goddess Severina: GWAR (12:30) - the Ultimate Theatrical Halloween band! + plus the Glam-Ram boys of The Dead Stars on Hollywood, and Low Down - as featured at 94.7 KNRK.

IMWT: And what will be happening downstairs?

Goddess Severina: Downstairs will be Deathline International, 800 Octane - Punk Rock, Ghost Parade, and Soriah - performance, drum-beat, ghostly spooky thing.

IMWT: Please describe what the cabaret acts will be bringing to the Queen of Halloween Ball.

Goddess Severina: Pandora Pandaemonium Circus is doing sword swallowing and different balancing body acts.

And then, the Freak of Nature boys are doing a spooky Halloween Hellraiser, really bloody, gorey thing.

UPSTAIRS will be FLAME, which is a crew of three people; two women synchronised chains and finger fire, and then the head guy is a martial artist who incorporates fire with chain, a baton, and a fully lit bull-whip 8 feet in length.

Right before GWAR goes on will be SHIFT which is a body-suspension, really spooky, Halloweeny thing; if you have a weak stomach, you shouldn't watch it.

And, then of course, GWAR will be following and if you do not want your costumes ruined, you should not stand too close to the stage. They will be spraying the fake blood and all that stuff, and fire.

IMWT: What plans for a Halloween Costume contest should readers be preparing?

Goddess Severina: Coors Light and 94.7 KNRK are giving away a Rob Zombie guitar, autographed by Rob Zombie, to the Queen of Halloween. We will be picking 15 women out of the audience and they will wait off stage. We will bring them up one at a time. The audience will vote. In addition to receiving the autographed Rob Zombie guitar, the Queen of Halloween will receive a limosine ride and a dinner for two to a restaurant picked out by the HQ KNRK and Coors Light.

Several other smaller prizes for the runners up. The focus of course is to rewarding the females in the audience who have chosen to arrive in super costumes for this Queen of Halloween Ball.

Preceding the Queen of Halloween Ball, every morning on the "Gustav and Daria show" 6 am to 9 am, and on Friday, courtsey of Coors light and METRO CLOTHING, we're giving away 4 tickets to the Queen of Halloween Ball, with also a chance to win a gift certificate for a costume from the METRO CLOTHING store in Portland, Oregon.

IMWT: How do the Go Go girls fit in with the other entertainment lined up for this event?

Goddess Severina: In between all the cabaret and live bands will also be girls dressed up by METRO CLOTHING in different Halloween costumes, and while the 10 Go Go girls are dancing, DJ Ophelia and DJ BURN will be spinning music, and DOWNSTAIRS, while the Go-Go girls are dancing, DJ Carrion and DJ NON will also be spinning music sets.

IMWT: How much attendance can The Roseland Theatre support?

Goddess Severina: The Maximum capacity is legitimately 1300, but with the two floors involved, we're planning for 1600 attendants.

IMWT: Who are the primary sponsors for the Queen of Halloween Ball?

Goddess Severina: Coors Light is the Main sponsor for this event. Their ads will be broadcast on 94.7 KNRK.

The METRO is also involved with the advertising for the Queen of Halloween Ball. If you need a costume call: 503-294-9667.

IMWT: Where is METRO CLOTHING located?

Goddess Severina: METRO Clothing store in Portland, Oregon is located at 35th & Hawthorne. That's: 3525 SE Hawthorne Blvd., PORTLAND, OR 97214 (503) 234-9667.

IMWT: What can you tell us about GWAR?

Goddess Severina: GWAR is this Metal theatrical band.

The whole event is going to be a total mix of different bands. We've got the Industrial with DeathLine International; We've got the Gothic with Ghost Parade, a band that lives for the Gothic Halloweeny theme. And we've got Punk Rock with 800 Octane. And upstairs, we've got Glam Ram sort of Love and Rocket style with The Death Stars on Hollywood, and Low Down is like Blink 182 and then GWAR is this Metal theatrical band. They are about 8 feet tall in their costumes, the stage is immense extending from floor to ceiling. It's like watching a massive Metal music cartoon. And they are great guys to deal with. They've got that great straight-up New York attitude and two of them recently had babies. So, it's very difficult for them to tour right now. They are specifically flying out for the Queen of Halloween Ball, with no other dates planned for the West coast. They will then head up to Edmonton, Canada two days later, and then Vancouver, BC, and then the East coast before they're done with that tour.

IMWT: What else do you do locally through Severina Productions?

Goddess Severina: I help bring in talent for Deacon X's Fetish Night at Dante's in Portland,Oregon. And then I do the BIG one, my baby, which is the FETISH MASQUERAQDE BALL at Roseland Theater. We had a very good turn-out last time and this next time we are very hopeful to get Genitorturers and Impotent Sea Snakes, Apocolipstick... which is this fabulous band from San Francisco with Mistress Vega, she's Amazing! And Pope Worm [insert weblink if available]. I have not decided on a 6th band, yet. I am flying down a Fire Troupe from canada that does flips on stilts while they are performing with fire. And once again, I will be hoping to draw from Seattle and San Francisco and make this event even bigger than last year's. We did really well, but we would like to draw a crowd of 5,000 and move the event to the Portland Expo, and then maybe one day... Rose Garden!

It's a 3 - 4 hour drive from Seattle and only a one hour plane ride from San Francisco.

The next Fetish Masquerade Ball will take place on February 15th, 2003.

IMWT: Will Fetish Night & Fetish Masquerade both take place in February 2003?

Goddess Severina: My friends, Written in Ashes, will be performing at the Fetish Masquerade Ball. The lead singer of Written in Ashes, Kevyn Douglas Hay, also helps manage and produce Fetish Night and Dante's. Because we will both be involved with the larger scale Fetish Masquerade Ball at Roseland Theater, the Fetish Night at Dante's will probably be cancelled for the month of February 2003. The focus will instead be over at Roseland Theater for February 15th.

IMWT: When can readers plan on attending FETISH NIGHT each month?

Goddess Severina: Fetish Night at DANTE'S occurs on every third Saturday at 1 SW 3rd Avenue & W. Burnside Street, in PORTLAND, Oregon. Call ahead for information: 503-226-6630, or visit DANTE'S on the web at www.danteslive.com.

IMWT: How did Goddess Severina and Severina Productions become involved in promoting events in Portland, Oregon such as Fetish Night, Fetish Masquerade Ball, and the Queen of Halloween Ball?

Goddess Severina: In light of my involvements with BDSM & FETISH communities for more than 16 years now, and especially in having attended many fabulous events everywhere, I strive to show off the talent of Portland through the Fetish Masquerade Ball and help out the Portland Fetish and music scene as much as possible.