INTERVIEW: Cave-In
Hardcore Band Finds Way Onto Major Label (BMG)
By: Alex Steininger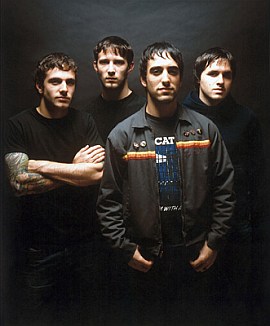 Forming in 1995 in the suburban city of Methuen, MA, right outside Boston, Cave-In went through several vocalists before Caleb Scofield took the helm. The band then released their debut, Beyond Hypothermia, on local indie Hydra Head Records.

Starting out as a metal band and progressing through Until Your Heart Stops, the follow-up to Beyond Hypothermia. And through Jupiter (all on Hydra Head Records), the band slowly elaborated on their metal sound, adding a chunky, melodic rock and post-hardcore touch, creating a truly loud, truly aggressive sound that goes beyond the confides of metal.

Signing to RCA Records following the release of Jupiter, the band's forth full-length, Antenna, was released on March 18, 2003.

"Recording Antenna was a different thing for us," admits guitarist Adam McGarth. "The basics for Jupiter were recorded in four days, but with Antenna we had three months. It was different and like nothing we did before. It was a new experience. We're used to doing a record on a shoestring budget, but here we had a huge budget, at least for us.

"There are plus and minuses to doing the record each way. The plus is you can experiment but the minus is that a lot of down time occurs."

Jumping from an indie label to a major can be a tough transition, especially if you're used to artistic freedom and making records the way you want to make them. It can be that much harder for a band that fits into the metal and hardcore scenes, as both are very tight knit and anti-corporate.

However, for Cave-In, there was no hesitation in the "should we sign to a major label?" question. Knowing the limitations of their label, Hydra Head Records, and knowing what a major could do for them, the band opted to sign.

"At the time there were quite a lot of majors interested in us," recalls McGarth. "That gave us good bargaining power to get what we wanted, because once one major wants you, they all want you, so we were able to negotiate with BMG."

The band decided to go with RCA Records because of the A&R guy, Bruce Floor. And because the label had a plan on how they were going to market and promote the band, as opposed to other labels who were just feeding them hot air like, "We're going to make you guys huge".

"All other labels had no plans for us, but BMG & Bruce had a plan," McGarth comments on why they choose RCA. "They told us what they were going to do, while the rest just said they were going to make us big, but couldn't tell us how. Bruce really got us and that clinched the deal."

Once the contract was signed, the band began working on their major label debut, the record that would become Antenna. Aware of label expectations and the need to create a record that would be palatable, but still have Cave-In's fury, the band holed themselves up in a studio for six months to piece the record together bit by bit until it was finished.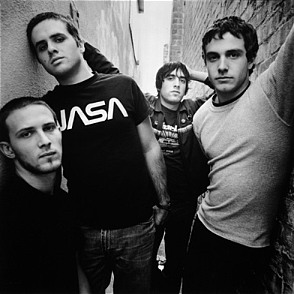 "They expected things, sure," McGarth says of RCA. "Bruce Floor had opinions during the recording process, but he let us make our own decisions. He put us in a position to make our own decisions and he supported us when we made them. It is a different, exciting time in our lives right now. We think we can do better than Antenna. We don't think we've made our quintessential record. Some parts sound labored over and moments of the record seem like the life has been sucked out of it. But, we're very proud of Antenna as a record. Three years ago if you said we'd write songs like this, I would never have believed it."
The backlash has been minimal too, not that Cave-In feared a backlash, but it has helped reassure them that RCA is the place they should be.
"Worse than signing to a major label, we got major backlash for growing out of our metal phase," comments McGarth on the possibility of a backlash after singing to RCA. "A lot worse than signing to a major. People were calling us faggots, they were using derogatory terms on us. I didn't want them around us, let alone liking our band. Fuck them, I'm glad we could weed them out."
Despite knowing that signing to a major was what they had to do to take it to the next level and make a living off of music, the band still had fears about signing to a major.
"Of course, coming from the independent world, majors are the devil," McGarth says of those fears. "But we never started out saying we would never sign to a major label, but never said we wouldn't. When we started we were fifteen-year-old suburban kids with no aspirations. There are evil independents, too. We had bargaining power, found a cool A&R guy, and were in a good situation. I've always wanted to make a living playing music. We're not rich by any means, but we get by."
Important to the band, they still retain a business relationship, as well as a friendship with Hydra Head Records. Hydra Head released the vinyl for Antenna.
The band will go out for a week and a half with Foo Fighters and plan to continue touring throughout the rest of the year in support of Antenna.