INTERVIEW: Bitter, Bitter Weeks
Miner Street Studios Engineer Creates Solo Album (My Pal God Records)
By: Alex Steininger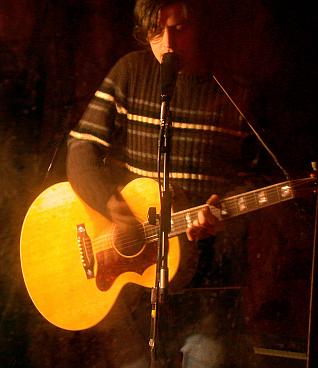 Founder of Miner Street Studios in his hometown of Philadelphia, PA, Bitter, Bitter Weeks' Brian McTear is best known for his engineering and production work on albums by Matt Pond PA, Mazarin, Lefty's Deceiver, Burning Brides, Eltro, the Lucys, and Trouble With Sweeney.

A musician at heart, McTear is up front about the reason he originally collected recording gear that lead to the opening of Miner Street Studios. He wanted to have his own place to record his music. Previously of the rock outfit Marinernine, McTear gave up the rock 'n' roll lifestyle to stay at home and help other bands put their music to tape. At least, that is what he would lead us to believe.

Working in between sessions and down time on his own songs, McTear spent the past six years recording a variety of songs, ranging in style from sparse to full-on production, before one night, as he practiced for an upcoming show, he realized that he just needed to do it. It dawned on him that a solo acoustic record would be his best re-introduction into recording and touring. Thus, Bitter, Bitter Weeks was born and their (his) self-titled full-length saw the light of day on the indie label My Pal God Records.

"I was doing some solo shows around town, under the name Brian McTear, and I was going to be playing a CD release party for a local musician, Mike Shellito, who I don't know that well. His band is called Shellito," says McTear, giving me the run down on how the self-titled record came about. "He approached me after one of my solo shows and said he wanted me to open up for his CD release show. And I thought, 'Why? He's never seen my band.' And then I was like, 'Oh shit, he wants me to do this.'

"I had a day off from the studio, nobody was booked, so I thought I'd go in there and rehearse. I had a vocal mic still set up and just hit play and recorded the set. I listened back to it and that was the moment I realized I was just going to have to suck it up and do it like that."

After listening back to the practice session he recorded, McTear immediately sat back down and went through the set two more times. With only an acoustic guitar and one microphone, the raw, honest, emotional offerings of his songs came to full fruition. Nine of the twelve songs from those three sessions made it onto the self-titled full-length. As McTear puts it, "It was all the preparation from the last seven years coming together in the studio in one day."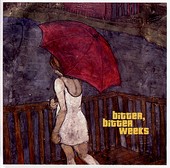 Choosing the name Bitter, Bitter Weeks for his outfit, McTear never thought he would be a singer-songwriter, and hates the idea of thinking of himself as a singer-songwriter. Aching to be Fugazi or Ride, he wants to rock out, but realizes his calling may not be in fronting a rock band, but rather being the sensitive singer-songwriter type. Still, he says future Bitter, Bitter Weeks releases may feature more instrumentation (he is already working on the next record, which he hopes will elaborate the sound a bit more), and says that he may collaborate with musicians on future releases. And, of course, he just didn't want to use his name Brian McTear for his musical endeavors.
"The big thing is that I had an intention that this would become a band. I really want to work with people, in a lot of ways like I get to work with bands whose records I record. I want to have a more collective approach to Bitter, Bitter Weeks."
"Also, I really didn't want to use my name," he confesses. "In Philadelphia I record a lot of the records from bands around town so I have a lot of people teasing me, saying 'oh, your name is in the paper - again!.' Usually the phrase is 'produced by Brian McTear' and that's it. But I get self-conscious. It's a hyper-corrective situation, where I don't want to be something that is self-important. I don't want my name as an individual to become more than it is, which is me. I don't want the name to become... like Bruce Springsteen. Bruce Springsteen is more than Bruce Springsteen. Of course, there are people that know him as Bruce, but you and I know him as this bigger-than-life person.
"On the flip side, I don't want to become like Badly Drawn Boy and introduce myself by saying, 'Hi, I'm Bitter, Bitter Weeks'. I know Badly Drawn Boy does that, or at least credits himself that way."
Despite his dislike of being labeled a singer-songwriter, it is inevitable with the self-titled debut being a solo acoustic record recorded mainly live to one mic. However, if you call him a singer-songwriter he is quick to try and shake free of that tag.
"I'm not a singer-songwriter. That's the one thing that I am paranoid about," he says with conviction. "I always wonder if I should give a shit or if I should back pedal and make sure I'm not associated with the Dar Williams of this world. I probably shouldn't care at all, but it's all so... it's that internal battle from the imagined product of your rock and roll fantasies and who you really are."
Regardless if you perceive him as a singer-songwriter or a rock 'n' roller, a pop songsmith, or a troubadour, Bitter, Bitter Weeks' long road from McTear writing a handful of the songs on the record nearly ten years ago to his seven year recording process has finally paid off.
"The problem with the other versions of the songs was that I put the cart before the horse. With all this gear and the studio, I had all these ideas of what I wanted to do with songs. But you can't have the tricks before you have the songs to match," McTear says of why it took him seven years from the conception of the idea to see it through. "You just can't force a trick into a song. And that's the role I've always fulfilled with other people's songs. People have the songs and I can hear it and say that they might do well with this approach or trick. But, for me, I spent years recording my own songs and trying out all these tricks that I wanted to use but couldn't fit into other people's songs. And they weren't fitting in my songs, either, and I realized that when I was listening back to the stuff I was recording.
"Recording my own record and recording other people's records, it's a totally different creative outlet. Working on other people's records is a labor of love, but working on my own records is a soul-searching mission. Some of the songs on this record are ten years old. It's a lot of old songs. I could have put out a record years and years ago. Maybe not the same songs, but a lot of them would have made it out if I released it earlier. But it wasn't the right time, it wasn't ready yet."
Thinking back on it all, the years it took to make Bitter, Bitter Weeks the record it is, McTear has no regrets as he talks about the different roads he went down to come out with a record he is truly proud of.
"With my old rock band, Marinernine, we couldn't agree on a approach, a style or an image, and so I have all these songs that tanked and never worked with the band. That might be one of the best things that came out of that band, I have all these old songs I wrote awhile ago and recorded in various stages."
McTear just finished up his first national tour, touring with longtime friend Matt Pond PA.
"I'm glad to be touring. Haven't done it since I was young and it's really different to be 30 and touring, he says of the experience."
He is currently working on Bitter, Bitter Weeks' sophomore full-length.
"I was going around doing the Bitter, Bitter Weeks thing for about a year before the record came out. From the outside of Philadelphia, it seems like a brand new thing. And, it is, since I only play once every two or three months, but I'm ready to get back in and work on my next record."