INTERVIEW: Bingo
aka Kevin Richey
By: Alex Steininger


Fusing Eastern and Western folk, Bingo (aka Kevin Richey) is a true folkie who is able to re-invent modern folk with flavor and style past that of the American greats. Incorporating Eastern folk not only shakes things up a bit, but helps give his album depth past the standard man and guitar folk repetition that sometimes travels the route of boredom.

Alex: What are some of your musical influences?

Bingo: Oh, just about everything. Everything that I've ever heard. Some of it I like, some of it I don't, but it is still an influence. Some I like during different points of different times of the day, you know? I think music itself is my biggest influence. As a living thing, music influences my life.

Alex: Why do you go under the alias Bingo, rather than Kevin Richey?

Bingo: I thought it would be easier for people to remember, and I thought there would be tons of free advertising, because there is a bingo parlor in just about every town. It's a good word, my friend Pete gave me that nickname. I mean, whenever you win it in a game it means you win. I think that's pretty cool.

Alex: As a joke, have you ever thought of covering the Bingo theme song?

Bingo: I kind of do. I do it for kids and stuff.

Alex: When you were a kid, a teenager, were you a punk rocker, a hard rocker, or anything like that?

Bingo: I think I looked at all of it pretty closely. I loved it all. I grew up in a pretty multicultural situation, luckily, my family is still that way too, so I grew up listening to some of the first rap music, pop music...Wichita radio didn't have a whole lot to offer, except for this little college radio station that played from midnight to six in the morning. I recorded it and played the tapes on my Walkman at school. That's how I got turned on to all this crazy shit. Also, all the foreign exchange students I met. They would bring really cool stuff from their home countries and that is where I got turned on to all types of crazy shit -- Alien Sex Fein, and other noise bands like that. A hell of a lot of fun exploring music.

Alex: What do you think of the singer/songwriter classification? Do you think you fit into that classification?

Bingo: No! I think that nomenclature tends to limit one's imagination at times concerning art. It relies on such things as taste and intuition and being able to surface from that plain and come up with some transmission, communication, or music. That's a good thing. But to call it something, well...it's hard to call it something. I mean, word is the word for 'word,' but when you're talking about sound vibrations, I don't know, I consider myself a human being first and foremost and a musician second.

Alex: So, do you prefer writing one style of folk to the other? Say, the Eastern Folk compared to the Western style?

Bingo: I think it is just what is hitting you at the time. I just kind of groove with it at the time, and go with it. I just follow that feeling, to be honest.

Alex: So, are you relieved now that Golden Delicious [his previous alt-country band] has dissolved so you can now concentrate all your efforts on your solo career?

Bingo: I don't know if relieved would be a good word, I'm just happy to be doing what I am now doing. Of course, I was happy to be doing what I was doing then, too. I think it is just a natural progression of events that are unfolding.

Alex: Then, do you look back at the band and regret that you guys broke up?

Bingo: I don't regret anything, really.

Alex: On that note, do you prefer working with the band or being solo more?

Bingo: Well, I enjoy ensemble playing and I enjoy jamming out and playing with others, but I also enjoy arranging and composing music and trying to bring the ideas together with other musicians. That's what I am basically doing now, leading an ensemble. Sometimes it is bigger, and sometimes it is smaller.

Alex: How did you end up getting Saffs from Cornershop to play sitar on your record?

Bingo: You know, I just don't know. I wanted to have sitar on it, and mix the banjo and sitar together. Then, through my friend JJ [Gonson, owner of Undercover, Inc.], who is a friend of his, we got to hang out and have a conversation. He was in America on tour and had a few days off. It was really fun and groovy. He is going to be coming back one of these times, maybe in March, and he'll be playing more sitar, because he can rip it up.

Alex: Besides Bingo, is there any other musical projects you're working on, or want to work on?

Bingo: Oh yeah! I still play in the Prairie Dogs, and Pete Krebs is in that group along with Neil Gilpin and a few others. It is string band, banjo, and fiddle music from all over the world.

Alex: Besides Undercover's tribute to Bill Monroe, have you guys released anything else?

Bingo: No, but we have hours of stuff on tape. But we've all been really busy for the last couple of years. It's hard to get together for any release. But, we have a good archive and are going to release something at some point.

Alex: What about future Bingo recordings? Any plans to record some new material?

Bingo: I start the next record on Sunday. I'm going to start recording tracks here, Santa Fe, and in San Francisco.

Alex: Is it scheduled to be an Undercover release?

Bingo: Yes it is.

Alex: I remember JJ talking about how her original plans were for a major to buy the option for the next record.

Bingo: I'm not in any hurry to go anywhere. I'm happy right where I am.

Alex: So, besides music, do you have a full or part-time job?

Bingo: Not for about six years. I live in a van, though. The riches of the world are at your feet. You don't have to stoop down to pick them up, you can just see that they are there. I've been living like a gypsy for some time now and it's fun. Now we've got a RV.

Alex: Do you ever wake up and wish you had a 9-5 so you could buy some of the more material things in society, like a house, etc?

Bingo: Oh christ no. No, no, no! I'm gentler about it now, but at the time when I decided not to work anymore and just play music...It's good to just follow your heart and do what you want, you know, and you'll be taken care of. There's no doubt about that. As far as having things, though, what are they? I have my instruments, I have the things on my back, and a vehicle to get around and do my thing. I think I'll want a homestead sometime, if I ever find a partner and want to relax, but I'm still a young man and have a lot of work to do before I retire. And that includes traveling. I don't want to pay mortgage in a town where I need to be global.

Alex: What are your goals for 1999?

Bingo: Purifying my spirit to its highest essence and resonating love with love, everywhere in my life. Learning. Taking the things out of myself that I don't need and getting rid of them.

Alex: What do you enjoy and hate about the music industry?

Bingo: Everything! Yes and no (laughter). I love everything I hate, I suppose. And I love everything I hate. I don't know man, it's not my thing to think about. I am lucky to have people to help me do what I do. I guess that is their job, and I trust everyone I work with. I wouldn't work with them if I didn't trust them or feel as if they were family. So, I think there is probably a lot of things wrong with it, and from what I understand things are crumbling. I don't know what the Internet is going to do to that, but it might have a lot to do with it. I'm just glad to have a grassroots organization and a lot of family in this town and around this world. I love keeping it on a friendly level, because that is what life is all about. It's not about getting over on anything, it's about living well.

Alex: What are your highs and lows so far as a musician?

Bingo: One time I did a half of sheet of acid, but other than that it is very hard to answer that question. I think there is nothing but good in the music, because even the worst of it, being stuck down on the side of a road with a broken van and three weeks to go on your tour, teaches you by dragging you through the fire. It is still a lesson. And to be grateful for that, that is a gift. It's as high as you can get and as low as you can get. Sometimes you'll be sitting in a comfortable place and there is people who want to hear your music, and there is a vibe going around and you're all feeding off of the energy in the room, that's a high. The music itself, though, is the highest. It's the greatest teacher I've ever known. It's the expression of everything in both mathematical and emotional form. It's a great language.

Alex: So what made you want to be a musician?

Bingo: I didn't have a choice.

Alex: What goes into good music making for you?

Bingo: Being relaxed, well feed, and living happily. Just starting from silence, an attitude of silence, and going from there.

Alex: What inspires you to write music, both musically and lyrically?

Bingo: Well, for words it is just the emotions I'm feeling at that moment. Feelings I want to share, if I can. Or just tell a story. The music itself pretty much writes itself. It just plays in my ears. We all have our inner body experiences -- how we see colors, how we go about expressing ourselves, and how we feel things -- but the overall energy is somewhere else. It's like breath, you are breathing it, but that air is air.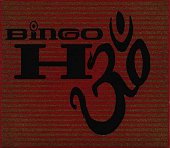 Alex: What do you want the listener to get out of your music?
Bingo: Whatever they need most to get out of it. That's what I hope they get out of it, and i? they do, I'm happy for them. If they don't, I hope they find it somewhere else or whatever. I just hope they get what they need.
Alex: Anything I left out that you'd like to include?
Bingo: Rock is king! (laughter) I don't know, everybody have fun and be nice to each other. I want to wish everyone a good year and tell everyone to be nice and respectful to each other. That's about it.