Hungry Lucy
Glo [2xCD] (Hungry Lucy Music)
By: Jett Black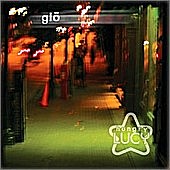 HUNGRY LUCY devastates the world of music with absolutely sensational vocals provided by Christa Belle.

Christa Belle provides much poetry on her own website, and not merely the same which appears on this new album, Glo.

The lyrical poetry appearing within songs such as "Telltale Shot" and "Her Song" (etc.) draws me into this heavenly trip music completely... the content and style of pain and suffering within the bondage of romance which have consumed my own interests in poetry ever since I first discovered 'girls'.

Hungry Lucy/Christa Belle's vocals resemble a blending of vox stylings reminescent of Minefield, Collide, and Portishead. It also reminds me of Rhea's Obsession, The Changelings, and My Scarlet Life.

Glo provides a 2CD set in this sophomoric release from Hungry Lucy Music. The second cd delivers 10 additional tracks devoted to remixes by top electro artists from the underground including (among others) bloodWIRE, Aiboforcen, ThouShaltNot, Dreamside, Niekka RPM, and Claire Voyant.

While this music comes off sensationally as recorded music suitable for dance floors everywhere, and certainly the privacy of one's own home, I would very much hope to catch Hungry Lucy LIVE anytime. Just name the place. Perhaps a music venue in Portland, Oregon?

Dance on over to the Hungry Lucy website and find out more news about Hungry Lucy! Interactive options available on the front page: Hungry Lucy Music.