INTERVIEW: Lisa Germano
Alcohol, Loneliness, Depression, and Isolation (ARTISTdirect Records)
By: Alex Steininger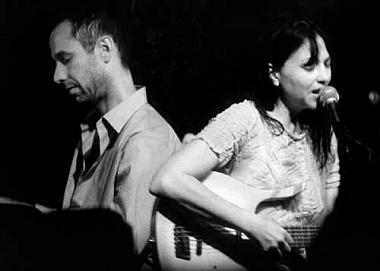 Following lackluster sales of her fifth full-length, 1998's Slide (4AD), Lisa Germano decided to take a hiatus from writing and recording her own material, spending the hiatus working at a bookstore in Hollywood. Originally earning a reputation in the industry for her instrumental prowess, most notably for her work on John Mellencamp's Big Daddy and Lonesome Jubilee albums, Germano had also assisted David Bowie, Neil Finn, and Anna Waronker on their respective projects.

However, despite reports she vowed to never release another album, Germano would go home after working at the bookstore all day and work on her next record.

After a few years of slow work, her sixth full-length, Lullaby for Liquid Pig, was complete.

"Tony Berg [the founder of Ineffable, the label that released Lullaby For Liquid Pig through a joint venture with ARTISTdirect] used to come to the bookstore where I worked. We'd talk and he would tell me how he wanted to start a label. I'd go home and work on the record I was making. Then I finished the record and sent it to about five or six people and thought I wasn't going to do anything with it beyond selling it on the Internet. But Tony was one of the people I sent it to and he called back immediately," recalls Germano.

"Tony said he would put it out," she continues, "but then it was taking too long for him to get Ineffable up and running so I said I was just going to put it out over the Internet. But in the back of my mind, kind of underneath my breath, I suggested that he talk to Marc Geiger at ARTISTdirect and discuss Ineffable teaming up with ARTISTdirect to put out the record. An hour later Tony called and said he talked to Marc and Marc loved the idea."

Berg is an industry vet, an A&R man who has signed countless acts to both Virgin and Geffen Records. Working with ARTISTdirect, he formed Ineffable Records, a label based around the idea of forming a collective, artists playing on each others? records, touring together, and sharing in each others? successes and profits. After hearing Lullaby for Liquid Pig, Berg knew it had to be the first release on Ineffable.

"I can't believe anyone would put out this record in this climate. So I'm very proud of them for putting it out," says Germano.

When not touring as a member of Crowded House's Neil Finn's band, which she has been doing for the past two years, Lisa Germano has been holed up in her house working on Lullaby, or at the bookstore.

"All I did was work at the bookstore and come home at night and write," Germano says of the time between Slide and joining Finn's touring band. "I wanted to see what else I could do and didn't have the machine working for me - no publishing, no advances. So I couldn't come home and just write, so I also worked at a bookstore."

With the record complete, Germano has long since stopped working at the bookstore. She's also thrown herself head first into the machine once again. As she puts it, "When I have a new record out, I feel like part of the machine, but when I don't, I don't feel like part of the machine".

Part of the machine is talking about her songs and the new album with journalists.

"I'm a communicator. My records are made for people who are looking in from the outside, not looking out from the inside. I don't make records you can put on at a party. It's not that kind of music," Germano says with little prompting.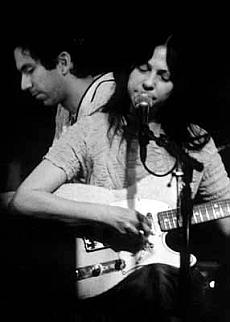 Much has been said about Germano's drinking over the past few years. Rumors abound; many have said Lullaby reflects the alcohol problems Germano experienced during the making of the record. And while Germano would once agree with people, she now sees her own material more clearly and quickly disputes any claims to Lullaby being merely about alcohol.
"I started out thinking this record was all about it, but it's not?it's about behavior, the behavior of very lonely people who don't understand why they're so lonely," Germano explains.
"There are four songs about alcohol," she continues, "but they are more about someone who is prone to addiction, whether it be alcohol, a lover, or whatever. It's about people who want and need too much. They're not getting it so they look elsewhere to get it."
Germano's dark, oft-spooky look into the less-than-glamorous aspects of the human psyche unwinds throughout twelve stark tales on Lullaby. Isolation, depression, loneliness and falling back on old habits all play an intricate role in the album, while the underlining theme of using self-servicing pleasure techniques to fill an empty void in your life constantly haunts even the cleanest of minds.
"I think the general concepts of each record are the same," Germano says, comparing all her records. "Though they're all different, they're about how if you have your shit together, you can help people. But if you don't, you suck energy from people."
"Ultimately, this record is about behavior that needs to be changed," Germano explains. "I thought maybe I should call the record ?Alcoholics Anonymous? originally. I thought it was about alcohol, and I thought maybe I could give it to AA and it could help people. But I realize now it wouldn't help because that's not what it is about."
It took Germano a few months of distance, conducting several interviews, then revisiting the album before she realized that even her perception of the record, her belief that the record was about alcohol, was all wrong.
And though Germano now realizes the album is about isolation and loneliness, she says embracing this album's darkness is the only way, at least to her, to experience it.
"You don't listen to Lullaby for Liquid Pig with other people in the room. You listen to it alone. I love this record, but it doesn't work when you listen to it with others?I don't think it works unless you're alone."
Currently off tour from Finn's band, Germano will be visiting Europe this spring, with an U.S. tour planned for the summer. Look for her to bring her piano and songs to a town near you, helping at least a hundred or two feel a part of something bigger than themselves, if only for a night.