INTERVIEW: The Living End
Interview with Trav Demsey, drums (The Living End's homepage)
By: David Jenison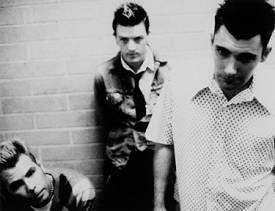 The Living End had already gone double platinum in their home country of Australia before hitting the States, but their stateside success was still a surprise. Punk rock had essentially run its course on mainstream radio, but here comes The Living End tearing up the airwaves and the press with a rock-a-billy punk rock sound with fun, youthful lyrics like, "We don't need no one like you to tell us what to do!" and "I'm a brat, and I know everything, and I talk back, because I'm not listening to anything you say!" Their first single, "Prisoner of Society," is already a smash with the band blowing away audiences night after night with a key opening slot on the current Offspring tour.

More than anything, The Living End - made up of Chris Cheney (vocals/guitar), Scott Owen (upright bass), and Trav Demsey (drums) - have received a monumental amount of praise from their American peers. Even before their first US show, the kick off party for the 1998 Warped Tour at the Key Club in Los Angeles, bands ranging from Pennywise to Rancid were praising the Living End. Members of the Stray Cats and Social D's Dennis Danell have all been seen at their shows, which are always packed with avid new fans wowed by their pertinent punk-a-billy sound. Happy recently caught up with drummer Trav Demsey to discuss becoming Australia's best import since Midnight Oil and AC/DC.

Has being from Australia influenced your sound?

"It must have. People are influenced by their peers, and our peers are Australians. When you first start a band, you look up to the band that's just one step higher and think, 'Wow, I'd love to be in their position.' Now that we've toured the world, I have been able to see the difference between an Australian band and say an American or European band. Australian bands generally keep in touch with the main reason they got into a band to begin with, which is simply to have fun. A lot of bands we've toured with seem to have lost sight of that."

When an Australian band breaks in America, how does it affect their fanbase at home?

"That's a very good question. In Australia, there is this element of backlash that happens when someone gets success. Australians generally don't like people who are doing better than themselves. They like people to be equal. If you are a local sporting star, half the people will adore you and half would love to punch you in the head. I think half our fanbase will be happy for us and think we worked so hard that we deserve it. The other half will say we've sold out and that we're not Australian anymore. We haven't really broken in the States yet, but we have won a lot of awards, like Rolling Stone's "Best Artist" award in Australia.

How do Australians view American music?

"The same way that the rest of the world does. There is some awesome stuff, and there's some crap. Australia is a very liberal country regardless of what you are talking about because we've been such a multi-cultural country for the past two hundred years. Everything is sort of accepted. I think more than anything, Australians want to see a good live band, regardless of the musical style."

Was it shocking to be so quickly and overwhelming received in the US?

"Yeah, it's, well, like you guys say in America, 'It's all good.' That's a big saying we've stumbled across. We've been working so hard and for so long that we are finally getting to see what the fruits of our labor have been. Still, even with some success, you cannot start thinking that you are better than anyone else. We're not curing cancer or anything - it's just rock 'n' roll. We just try to make people have a good time, so when they think about a good time, they think about us. We are happy that we've won all these awards, but we've got a big job ahead of us. If you take all these reviews as gospel, then when the negativity comes, it'll kill ya."

When you talk to kids after shows, what do they say it is about your songs that they relate with most?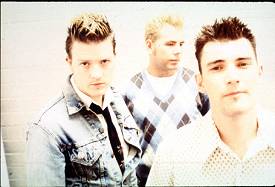 "I predominately hear that our music is fresh. We always thought that rock-a-billy and punk went hand in hand, and that when we came over, we would be one of many rock-a-billy punk bands. That doesn't seem to be the case. They are saying it's different. It's not skate-punk. It's not the Sex Pistols. It's not the Stray Cats. It's all of the above and then some. We also take solos, which is sort of taboo, isn't it? When you hear a drum solo, you think of 'Wayne's World.' But fuck it. Why can't we be the band that does solos? Yeah, kids can relate to a band that's about just going off."
Your songs have a definite meaning to them. I mean, there's definitely more to them than "Pretty Fly for a White Guy." Have you always had meaning in your songs, or was there a time when your songs just started coming out that way?
"I think we admire bands that had a lot of meaning in their songs. Chris Cheney's major idol is Paul Weller of the Jam. He wrote about every day types of issues. We do not want to get preachy, but we write about things we see. People like to talk about love and sex, and I can see how that sells. That's just not us. If you can get a song that's popular and that has meaning to it that people can relate with, it's a huge bonus."
What are you enjoying most about American culture?
"Cable TV! We don't have it in Australia. My favorite show is the Dukes of Hazard. We also love the Simpsons, CHiPs, and Good Times, if I can find it. We also love to watch the Newlywed Game reruns from the seventies. It's hilarious because the guys were all such sexist pigs back then. In one episode, the ladies had to say, with one being the top of their head and ten being their feet, which number they most want to change about themselves. When the husbands came back, one husband said one through ten. Man, these are newlyweds! Another husband said his wife's teeth, and she said, 'My teeth never bothered you before.' She was talking about giving head!"
Has the touring been tough?
"At first, the bus is huge. You cannot believe it. Then, after seven weeks, it starts to retract. You get done with a show and find a wet, sweaty shirt on your pillow, and it's the beginning of WWIII. Some times it's sad because I literally haven't seen my best friend in over a year. On the other hand, we are huge in Australia and became everything we ever wanted to be there. So now whatever happens here in America is just gravy. It's a fantasy coming true, and we are very grateful. We are having a total ball."