The Mendoza Line
If They Knew This Was The End (Bar None Records)
By: Alex Steininger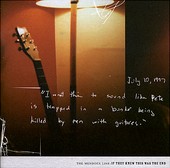 A re-issue of Brooklyn-by-way-of-Athens indie-rock outfit The Mendoza Line's first album, If They Knew This Was The End, complete with six bonus tracks originally intended for the original release. Also included is a booklet filled with copious liner notes. Guest performances from Athens-based bands like Summer Hymns, The Glands, Drive By Truckers, and Elf Power enriches the album that much more.

If They Knew This Was The End delivers roots-y, country acoustics alongside straight ahead, angst-driven guitar rock, a delightful mixture that ensures things stay interesting throughout, regardless of how many times you've listened to the record.

Listen as the plaintive "If You Knew Her As I Know Her" melts you, the acoustic guitar and remorseful vocals sending shivers up your spine, while the loose indie-rock of "Jefferson", the first of six bonus tracks, gets you tapping your feet.

Still, other tracks like the abrasive "Comeback" fuses angst with melody, whereas "The Seventh Round" charges at you head on, and "The Aragon and Trianon" tips its hat to Americana.

There is more rock than not on here, each song cranking up the guitars and screaming at you with as much intensity as they can fire in each note. Though it is the stripped down acoustics - the roots, country, and Americana pieces - that really hit home, the skeleton pieces floating by with so much emotion and passion, you can't help but feel consumed by them. I'll give this a B+.