INTERVIEW: James Angell
DEFINING JAMES ANGELL (James Angell)
By: Michael R. Lee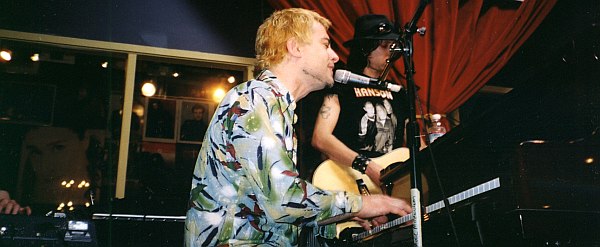 I arrive to a grey and rainy Portland, a fitting backdrop to "Private Player", James Angell's daring, complex, new album. This atmospheric, moody work seems a perfect companion to the dramatic beauty of the Columbia River Gorge, just east of the city. As you drive around each bend, you are greeted with an ever-changing landscape of stunning waterfalls, narrow ravines and diverse rock formations -- a journey somewhat similar to experiencing Angell's eclectic music.

Impossible to define or fit comfortably into any musical genre, "Private Player" is a collection of eight songs built around Angell's rootsy piano and passionate voice, with evocative, sometimes playful lyrics. Lush melodies, unworldly music/sounds pull you in, as repeated listening allows you to fully appreciate its depth and seems to take you to another dimension.

To understand the process that brought us this underground classic, you need to visit the years leading up to Angell's decision to quit music, then ultimately reinvent himself. He invited me to listen in on rehearsal and chat prior to his in store performance at Music Millennium and sold out concert in Lola's Room at The Crystal Ballroom in Portland on January 4, 2003.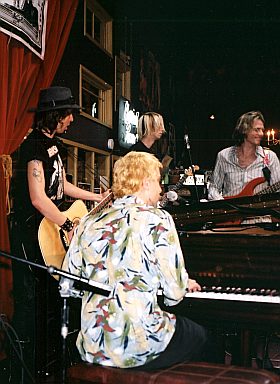 Angell was a member of Neros Rome, which originated in the 80s as a Euro-pop group, then evolved into a hard rock sound. Between 1992 & 1995, the band had the incredible misfortune of working out record deals, only to have them both cave in at the eleventh hour. "At that point, I just had had enough and wanted to do something else," Angell says. "I'd been married for a few years & my wife got pregnant about that time, so it was a good juncture to call it quits." He moved in with his parents, then proceeded to build a house on land behind their home, supporting his family as a carpenter.
It was during this time that Angell reconnected with family and he focused on developing more personal songs, spurning outside influences. During his years with Neros Rome, they were trying to get a deal, writing to please somebody else. "I started writing this record from the standpoint of being able to hold up just by playing solo piano on stage" Angell adds. "I just knew that would work and make a statement, plus I wanted to get back to piano, as I was raised on that". "Picture Perfect", a track off the new album, is a striking, yet beautiful example of this stripped down approach, as it all revolves around Angell's piano and vocals -- the six piece band shrinks to just three, as the song enfolds in guitarist Daniel Riddle's basement.
Once Angell got the songs down, he realized he wanted others to contribute, so he called on old friend Tony Lash (responsible for much of the extra production on "Private Player"), whom he'd known since Neros Rome days in 1986 and guitarist Daniel Riddle (King Black Acid). "For the longest time, I'd wished to work with Daniel because his guitar playing is so astral and I wanted that to work against the piano, which is more rootsy", Angell interjects. "I saw the songs sitting in an atmospheric soundscape, almost like paintings".
Many others contributed to the album, including backing vocals from his brother Theo, sister Christina and his then 3-year old daughter Astrid, whom Angell recorded in haunting spoken-word for the album's epic closing song "Sweet Bell". "I set her in front of the mike and coaxed her to read this speech three words at a time, then spliced it all together. That's what gives it that jerky sound. The inflection isn't natural" say Angell. "I didn't plan on it being that way but then again, you just go with these ideas and you never know what you're going to get. That's the beautiful thing about it".
The break from music being the foremost thing in Angell's life allowed him to get closer to his family, savoring the joy of fatherhood. "Getting away from the negative experiences at the end of Neros Rome helped me reconnect with my family -- it made being in a family cool again and I realized the value in that" he says. "I grew up in a strict religious upbringing and really needed to get away from that". "After you get comfortable with yourself and develop your own beliefs, you can come back and not be intimidated or confrontational about things". Angel added "The birth of Astrid had a huge impact on me, though one of the biggest differences was in how she effected my songwriting." "The great word combinations kids come up with - as an adult you could never come up with these things. I found her to be truly inspiring lyrically".
Many of the lyrics on "Private Player" are melancholy or dark, though never really depressing. He finds it easier to write moody songs, though if it tends to be a little deep, there needs to be some redemptive value to it. His strategy behind each dark moment within a song is formulated to move through to an ultimate last moment of rapturous redemption. "The lyrics for Dear Dying Friend were written by Steve Hanford and it makes reference to that. It's about giving everything up once you get to that state if you can" Angell says. "The environment I live in is definitely reflected in the music and lyrics. I guess if I moved to Maui for a few years, I'd have a very different record. I'd like to do that; it would be interesting to see what would happen."
When asked about musical influences, Angell finds it hard to come up with anybody in particular, instead liking certain songs, though he does have a favorite singer. "If I had to pick someone, although you probably couldn't tell in a million years, it would have to be Frank Sinatra. It kind of ends with him as far a singer", he says. "I grew up on church hymns and classical music and I guess you can hear baroque elements to how complex the music works together" he added.
"Private Player" has been in national distribution since September of 2002 on Psycheclectic Records and has garnered some rave reviews, plus the interest of David Bowie, (who called Angell enthusiastically last summer), Paul McCartney, (who has selected "Ooh Love" for the next Garland Appeal disc and are planning with the Pasadena Symphony to perform with Angell this Spring) and John Taylor (bassist for Duran Duran and Power Station).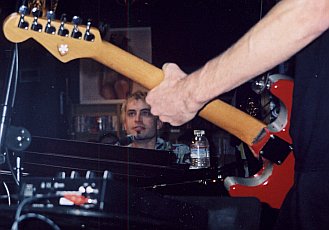 Taylor was so moved by Angell's music, he asked to perform with his band in Portland. "The record came at me with a dozen other CDs, with no cover or anything. I had no pre-conceived ideas and thought what the hell is this?" says Taylor. "I just felt the album deserved an audience and right now, I'm hungry for music that makes me cry. It's powerful, like a love affair." "A few weeks later I caught James in concert in New York and was amazed by his show. It reminded me of Elton John performing Tiny Dancer on the Old Grey Whistle Test (English music show, that broke in a lot of major artists in the 70s), early on in his career. You just knew big things would happen" Taylor added.
With John Taylor on bass, Tony Lash (Heatmiser, Elliott Smith) on drums, Daniel Riddle (King Black Acid) on guitar, Kevin Cozad (Neros Rome) on keyboards and Jon Fell (Pope Wyrm) on guitar, Angell has brought together a talented group that will do his music justice. Sitting in on their rehearsal, one of only four rehearsals as a band before hitting the stage on Saturday night, it is surprising to see how well they connect and deliver "Private Player's" songs. The set list consists of seven tracks off of the album and two new tracks, "Hiding In Plain Sight", a glorious melodic song and the playful "Ice Cream & Pez", which swings between the gentle first verse, to a harder sound and back again.
Angell seems very content with this lineup especially considering how little time they had to prepare for live performances. He also finds it ironic that Taylor is playing with the band, since when he started out, he was a huge fan of Duran Duran. As for Taylor, "I will be involved and available to perform with James when my schedule allows" he says and added "I'm just happy to be a part of this at the moment".
What will really strike you is how friendly, down to earth and charming Angell is. Even caught up in the mass of attention coming his way, he still manages to be well grounded and take things in stride. Success beckons someone so talented and it's just a matter of time before he becomes a major new star -- in fact he already is, you just don't know it yet.