Spiv
Don'tcha Know? (Pop Sweatshop)
By: Alex Steininger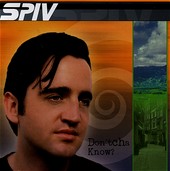 With the help of friend Ken Stringfellow (REM, The Posies, Big Star), who plays bass, keyboards, percussion, and does the backing vocals, as well as all the engineering, production, and mixing, Denver's Spiv creates a speedball of rock and power-pop on their latest, Don'tcha Know?.

Propelled by the infectious single, Everybody's A Rock Star Tonight, the anthem for bar bands everywhere, it's hook-laden, humorous power-pop an instant winner, Spiv make you dance, feel good, while supplying the soundtrack for your weekend.

"VIPs of the Street", a rap song backed by lounge-pop sounds further explores the tongue-in-cheek nature of this record. While the sedative acoustic "Songs To Sway To", the blaring rock of the title track, and psychedelic swirl and infectious-ness of "Beatley" all make this a record of unpredictable magnitude, something you'll come to love about Spiv. One minute they have you singing along, the next minute they're playing with your head, then you're singing along again, before they hit you with a rap song? Yes, it's business as normal for Spiv, who love to toy with your mind while giving you some music that will make you think before you fully understand what it is offering you. I'll give it an A-.