Ryan Adams
Demolition (Lost Highway/Universal)
By: Alex Steininger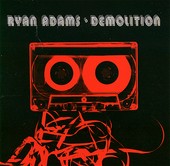 To call Ryan Adams a musical genius is not a stretch. To call him prolific is, to say the least, dead on. Writing and recording almost all the time, Adams, who planned to release four or five full-lengths in 2003, decided it wasn't feasible or sane to do such a thing. So, combining the variety of records and projects he was working on - from full band, solo acoustic, and rock demos with his band The Pink Hearts - Adams has come up with Demolition, a thirteen track 'best of' from his different albums.

Opening with "Nuclear", Adams kicks things off with a spicy alt-country piece, his vocals laid-back and casual, the pedal steel giving the song its alt-country sway, as Adams and band concentrate on writing a drum-pounding, bass-heavy pop-rock song.

"Hallelujah" further explores Adams' country songwriting, sounding like a track that would have perfectly fit on Adams' Gold record. Ethan Johns' production and Chris Stills and Johns' backing vocals make the soulful number a well-produced, hook-laden example of Adams' ability to craft some of the most poignant, touching songs, while still retaining marketability to the craft, a rare feat.

"You Will Always Be The Same" finds Adams at his rawest, the dobro and cello the only instruments behind Adams' voice and his guitar, the tender, wide-open emotions and bare bones creation exposing Adams. Yet he is up for the challenge, writing a quaint, quiet folk song that even with a minimalist approach stills shines through with unparalleled songwriting.

It is Adams' demos with his rock band, The Pink Hearts, though, that really showcases his versatility and vibrancy as one of the best current songwriters.

The two songs, "Starting To Hurt" and "Gimme A Sign", prove Adams can create rock 'n' roll magic on his own, delivering melodic, hook-laden, guitar-driven rock that would have any rock group crying at Adams' effortlessly composed powerhouses.

"Starting To Hurt", opening with just a bass line before the swirling guitars come in, reels you in as Adams' smoky vocals move on you. Sounding reserved and painful, the song soon bursts into the chorus, Adams' voice following, turning gruff as he shouts, "Starting To Hurt".

The swirling guitars, coupled with the mid-tempo rhythm section, comes crashing down on you during the chorus as the guitars slice into the song and go from somewhat of a mellow, melancholic state to a fiery, take-control rock stance. The ensuing noise encompasses you as Adams heals himself, coming clean and facing his pain.

"Gimme A Sign" wastes no time, quickly entering with razor-sharp guitars and leading up to Adams' expressive vocals, the chorus jumping at you with no restraint, the muddy recording somehow furthering the smart, but really just straight ahead bar-rock of Adams and company's bash it out sound.

If you're not in tears or sweating profusely by this point, the chilling "Jesus (Don't Touch My Baby)" will give you goose bumps. Adams handles all the instruments (guitars, synthesizer, bass, and drum machine), delivering a spellbinding array of acid notes and eerie psychedelic melodies, the airy folk resting underneath the gentle flow of creepy, comforting noise.

Adams makes it look so easy, hitting pay dirt no matter what he does, even when he makes an album of varying styles and sounds, somehow he pulls it together an makes it sound like a gem. Adams could quit now and still be remembered fifty years from now as one of the period's best songwriters. But, Demolition tells me we'll be hearing much more from Adams and many more great records. I'll give this an A+.