Rocket
Seven Miles High (POS/Catapult)
By: Ronald W. Vaughan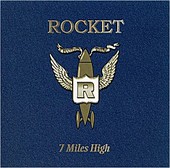 You may have seen the recent PEOPLE Magazine story on A.J. Lambert (daughter of Nancy Sinatra and the late Hugh Lambert).

After having another band (SLEEPINGTON), A.J. has moved on to this one: ROCKET--consisting of her on vocals/bass; Matt Amarto, guitar/vocal; and "Murch",drums (A.J. has vocals on 3 of the 11 songs.)

This melodic-rock CD begins with "Burn Out", a song about progressing with life's goals and not living in the past; "Magazine", lamenting about a lost relation- ship;"Wide Awake" tells of a woman who's looking to heal emotional wounds; "Rush" sings about the need to slow down and enjoy life; "Blur" looks back on how a relationship got started. The "hit", "Someone", with its classic-rock riffs, is the story of "someone" in love; "Ride" bespeaks a couple travelling together to see the sights; "Home" compares a house to one's spouse; "Odd Day" spins a story about a person trying to get a date; "Sleepwalking" (the only song with the lyrics not listed!) is a mystery. Is it a literal comment on trying to express in words what one dreams? The lyrics "It vanishes as soon as you tell!" is SO appropriate. "Smile" ends this recording pleading for honesty in a relationship.

This is good, competent musicianship and singing. It would be neat if they could get to the West Coast for a live show so we could SEE live, what we hear on these recordings!