The Mockers
Living In The Holland Tunnel (The Mockers)
By: Gary "Pig" Gold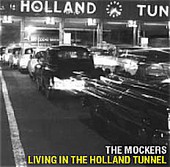 The Mockers always have, and I bet always will have, each and every hallmark of rock'n'poppery all the way DOWN. Namely? Good playing, good singing, and -- now here's usually the tough part, folks -- good songs. But on this, their too-long-awaited second full album, Seth Gordon, Tony Leventhal and Co. decisively bring into full bloom at last the big audio dynamite we always knew lurked deep inside them.

Of course, co-producer Mitch Easter plays a grand roll here in helping add the Power to the Mockers' pop (does ANYONE still know how to put guitars onto tape like he does?!!) But without the raw material -- songs joyously leaping big gamuts between, for example, the Itchycoo Turtle spoonfulness of "Comes As No Surprise" and the snarling neveaux-garage of "C'mon Over To My Side" -- this disc wouldn't be near the true-blue revelation it is. Nice use of vintage keyboard flavoring the cooly-called "Sheepwalking" and the raging kick-offer "More Important Things" and, for us New Yorkers, exquisite cover snaps as well.

But as nice as these adornments are, the REAL star here is a just a great, GREAT band and another wonderful record I only hope they don't wait too long again in following up!