Meredith Brooks
Bad, Bad One (Gold Circle Records)
By: Ronald W. Vaughan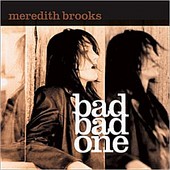 Meredith Brooks, the onetime "Bitch", is back--in fine form after a semi-long absence, with a new CD (on a new label) co-produced by Boxing Ghandis' Dave Darling.

These 12 tracks more than merit one's attention."Crazy" is the song about keeping one's individuality regard-less of the labels people may hang on oneself; "High" is a declaration of total freedom from past drug use; "Bad,Bad One"-the title track, recalls the singer's basic faults; "Pleasure" recounts the story of a lover; "Pain", the opposite emotion, tells of frustration; "You Don't Know Me" has the artist maintaining her ego against an abusive acquaintance; "Where Lovers Meet" is about a lonely time in the singer's life (it has a "classic" sound); "Walk Away" recounts a typical disagreement between two spouses;"Your Name" is a song about our heroine being haunted by a mysterious,threatening (and anonymous) stranger--is that situation real, or the gun a nightmare? "Shine", arguably a standout song on the album, extols an acquaintance who has an unstoppable optimism. The driving, upbeat "Lucky Day" describes an egoist; the closing song, "Stand", is about a friend's loyalty.

Meredith plays all guitars throughout, using good melody with her playing and singing. There are special effects employed too, but those are wisely used sparingly. The catchy tunes should make this a standout album, with her having had a hand in all the song- writing. The "hits" seem to be: Shine, Where Lovers Meet,and Lucky Day.