Kimya Dawson
I'm Sorry That Sometimes I'm Mean (Rough Trade/Sanctuary)
By: Alex Steininger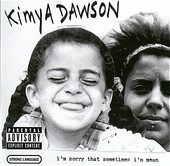 One half of the anti-folk duo The Moldy Peaches, Kimya Dawson, much like her songwriting partner, Adam Green, took a break to record a solo record based on the theory that less is more. Also like Green, the artwork for the disc is a black and white collage that looks like it was quickly put together and Xeroxed. But it mirrors the music almost too perfectly.

From the faint guitar that leads the way, through Dawson's half-hearted, pieced together lyrics, the album looks like a rough demo, a sketchbook of drawings for future albums. What we have here is a collection of songs that weren't too well thought out and were thrown together in an attempt to have a solo album. Had Dawson demo'd these and worked on them like Green and Dawson would have done on a Moldy Peaches record, the songs may have been given a better chance. Sent to fend for themselves, however, they don't make the grade, their basic structure and chord progressions, the light strumming and elementary lyrics just too rudimentary for such a stripped down singer-songwriter offering. I'll give it a C.