Jucifer
I Name You Destroyer (Velocette Records)
By: Alex Steininger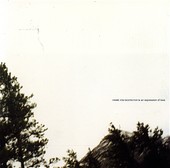 Jucifer's I Name You Destroyer is a beautiful schizophrenic collection of layered pop and burning rock. "Little Fever" opens the album with plenty of swirling guitars and subdued female vocals that seem to swim around in the layers of instrumentation behind them. The song is neither calm nor stormy; it rests comfortably in the middle, giving the impression that you're about to hear a swimmingly pleasant collection of noodle-y indie-rock and swirling layers of psychedelic post-punk.

Then track two comes along, "Amplifier," a bass-heavy song filled with screeching guitars and a live wire rhythm section. From there the record keeps throwing heavy, hard-knock rhythms and razor sharp metal leanings, bringing it all together in a hard rock meets post-punk explosion.

Mixed in with the occasional pop idea, the record fuses two very different sounds, melding them into a bounty of refreshing hard rock. I'll give this a B-.