Johnny Marr + the healers
Boomslang (iMusic/Artist Direct)
By: Alex Steininger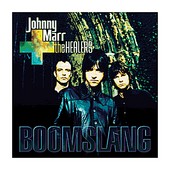 One of the top ten guitarists of all time, Smiths' legend Johnny Marr has assembled a new band, the healers. On their debut CD, Boomslang, Marr and company infuse Brit-pop, psychedelia, and acoustic pop into their own brand of rock.

Album opener "The Last Ride" is complete psychedelic-pop, a swirling array of Marr's genius guitar playing backed up by a rhythm section capable of keeping things solid and sturdy, while Marr's voice carries the melody amidst the layers of guitars.

"Caught Up" follows the song up with an equally potent shot of rock, a slight twang buried underneath the British branded pop flavor of the song.

But they're more than just a band that writes great swirling guitars and lush rock instrumentation. "Down On The Corner", "You Are The Magic", "Another Day", and "Something To Shout About" show the varying degrees at which Johnny Marr and the healers can strip things down to an acoustic guitar and take it up. The songs don't have the option to feed off Marr's amped up roaring guitars and build upon the swirling mess. Instead, they get the chance to build everything back from the ground up, complimenting and downplaying their efforts to allow the acoustic guitar plenty of room to lead them.

Meanwhile, the album offers up the opposite side of the spectrum. "Need It", "InBetweens", and "Long Gone" are three of the album's most acid-drenched psychedelic moments, causing one to be disoriented as the stoner rock leanings of their Brit-Pop swirls consume your mind and take you for a ride. I'll give this an A-.