Joan Baez
5 -and- Farewell, Angelina (Vanguard Records)
By: Alex Steininger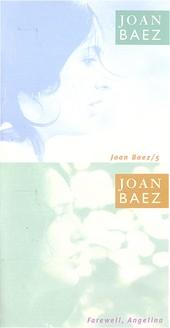 Two of Joan Baez's landmark recordings - 1964's 5 and 1965's Farewell, Angelina- showcase her ability to find top notch covers (she later went on to write top-notch songs rather than covering them).

The first, the aptly titled 5, Baez's fifth full-length, was originally released during a time when folk music was changing. Fans were broader and younger, they were demanding more eclectic recordings, and they wanted more than traditional folk songs regurgitated.

Baez answered their call by offering up a variety of solid songs, including Dylan's "It Ain't Me Babe", Johnny Cash's "I Still Miss Someone", and Phil Ochs' "There But For Fortune". She helped reinvent the perception and reception of folk, turning the folk world on its ears, by playing country and pop music in a traditional folk vein. Also, by offering up the female version of Dylan's classic (Baez's version equally compelling and emotional), she helped establish herself as a revolutionary folk artist that could stand atop the same mountain as a great like Dylan and hold her own.

Still, even after the success of 5, times were changing with the tide, and by late 1965 when Baez released Farewell, Angelina, the master of folk himself, Bob Dylan, had gone electric, and folk-rock bands like The Byrds were causing a stir in the folk community. Competition was fierce and fans wanted even more than Baez had offered on 5.

Farewell, Angelina, top heavy with Dylan covers, including the title track, which was never officially recorded by Dylan, surpassed expectations and kept Baez at the top of the folk world. Her shining voice and way of turning traditional folk into something extraordinarily, and her choice Dylan covers, instantly won fans over yet again.

It didn't hurt that the title track was written but never recorded by Dylan. Dylan's fans instantly bought into the record. It also didn't hurt that her versions of "Daddy, You Been On My Mind", "One Too Many Mornings", and "A Hard Rain's A-Gonna Fall" matched the intensity and passion of Dylan's originals, providing a female perspective on the classics.

But, if those were the selling points that reeled in the fans, covers of Donovan's "Colours" and Woody Guthrie's "Ranger's Command", as well as top-notch traditional numbers, showed fans that Baez's talents once again extended beyond her magnificent voice, gentle guitar strumming, and picking. Her choice of covers was flawless, as she handled songs that seemingly were meant for her to sing in the first place, and played her heart out to make it sound as if they were her own creations.

Now with extensive liner notes and artwork, including all the originals, as well as bonus tracks, 5 and Farewell, Angelina are being re-released by Vanguard Records. Even if you have the originals (which means you know how great these two records are), the added bonuses (musical and otherwise) make both of these treats. For those that are unfamiliar with Baez, with their extensive liner notes, 5 and Farewell, Angelina are a great place to start. I'll give them both an A+.