Irving
Good Morning Beautiful (Eenie Meenie Records)
By: Alex Steininger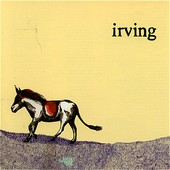 Starting out with the acoustic "Crumbling Mountain Tops", you may get the impression that Irving's Good Morning Beautiful is a whispery, hushed acoustic record. And, what would be wrong with that? It is a beautiful, meditative piece. However, when "Eyes Adjust to Light" hits, you fully realize what Irving is all about, seeing the songs beyond that of their acoustic skeleton, as the lo-fi, jangle-y buzz and loose, floppy pop bounce around with such ease.

The rest of the album stays on this course, delivering fully developed indie-pop with as much charm as it has hooks. You'll find yourself tapping your toes to the beats at least more than once.

This is joyous, fun-time indie-pop with substance, a meaningful collection of rock 'n' roll that lives in the underground, floating in the mist of its own buzz as the pop hooks and swirling melodies help the songs reach their boiling point. I'll give it an A-.