Calla
Televise (Arena Rock Recording Co.)
By: Alex Steininger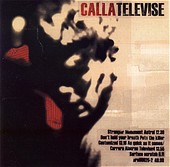 Calla's Televise, the latest from the Arena Rock Recording Co., is an airy, dark collection of late night thoughts, early morning blurry-eyed restlessness, and mid-afternoon strumming. The outcome is a mid-tempo, simmering pop-rock record that focuses more on atmosphere and mood than melody or hooks, choosing to rest alongside the cool, but dry rhythm section or the smoldering guitars rather than go out in the sun for something they may not be expecting.

The songs are well-produced and even more well-written, the lyrics something you want to sit down and acknowledge, and the complete composition something that sounds good out of your speakers but would sound even more textured and inspirational should you play it through your headphones. I'll give it a B.