Sweatmaster
Sharp Cut (Bad Afro)
By: Alex Steininger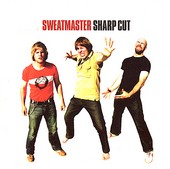 Following The Flaming Sideburns, Finland's Sweatmaster deliver an arsenal of rock 'n' roll, taking their country by storm and watching it spread throughout Europe, a UK release on Must Destroy (founded by two A&R guys from Poptones), and a Japanese release on Myrmecoleo, planned for 2003.

On Sharp Cut the trio plays it loud and fast, forgoing any melodic space in favor of more ass-shaking rhythms to make you dance. But that doesn't mean the music is lacking any hooks. The crashing sound of the drums and the fierce bite of the bass come together to make you sweat and dance while the guitars roar and buzz. The crunch putting an extra step in your strut, all with the vocals throwing out the swagger that gives the song the rock 'n' roll attitude and makes you want more.

Finland knows how to produce the rock and Sharp Cut is a prime example of a rock album. It's got the chops, the style, and the substance; it is fair to say that this record, if given the chance, should take off worldwide. Watch for it to catch on in the UK and then U.S. labels will be salivating before every U.S. rocker wants to own a copy. I'll give it a B+.