SHOW REVIEW: George Strait's Chevy Truck Tour 2002
October 24, 2002 - Rose Garden (Portland, Oregon)
By: Curt Steininger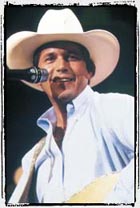 Dubbed the Chevy Truck Tour, George Strait, along with very special guest Jo Dee Messina, hit arenas and amphitheaters across the country, landing at Portland, Oregon's Rose Garden on Thursday, October 24th.

Playing in front of a packed house, igniting off the over-the-top enthusiasm of the crowd, Strait and band played an extended set lasting nearly two hours, much to the delight of his fans. He made sure to span his two-decade repertoire. But he played mainly selections off his latest greatest hits collection, 20th Century Masters - The Millennium Collection (MCA) and his newest studio album, 2001's The Road Less Traveled (MCA).

Opening with "Stars on the Water" from The Road Less Traveled, The neo-traditionalist, western swing/honky tonk revivalist didn't stop there.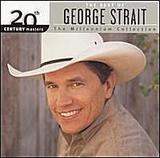 Weaving between old and current hits, he touched upon such live staples as "Write This Down" and "Heartland". Old hits like "I Can Still Make Cheyenne & Amarillo By Morning". As well as current chart toppers "Run", "She'll Leave You With A Smile", and "Living and Living Well", the latter three also found on The Road Less Traveled.
Strait's contribution to modern country, and his dedication to country's traditional sound, was not in question, as any one of the fans in attendance will attest to. The non-stop touring machine of George Strait, who hadn't graced Portland in a few years, also proved that absence makes the heart grow fonder.