SHOW REVIEW: Atom Sane / Railer / Julian Tulip's Licorice
Satyricon, November 26th (Portland)
By: Sonya Brown


Atom Sane: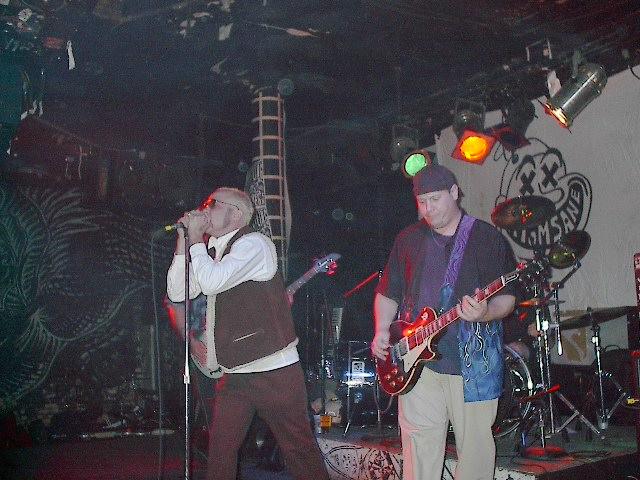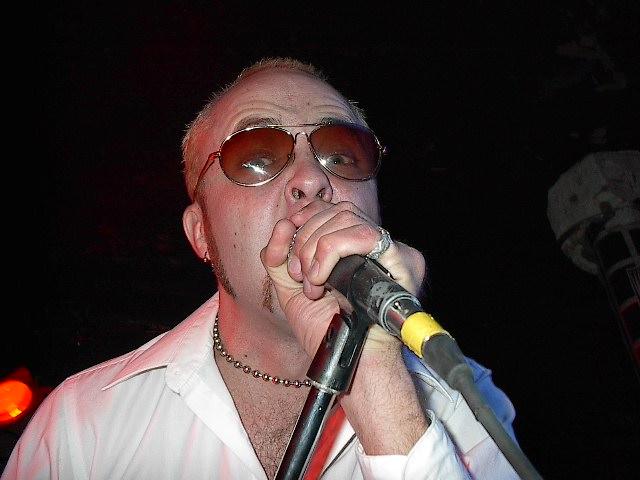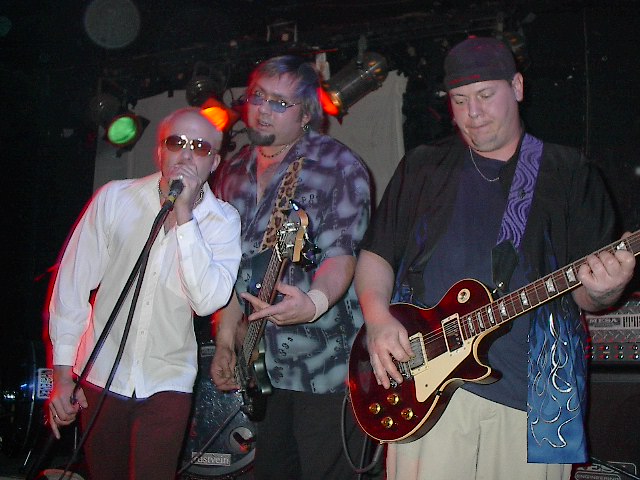 Railer: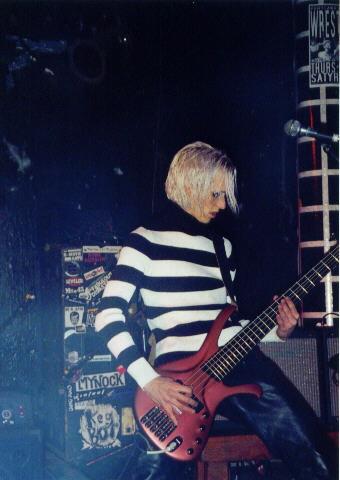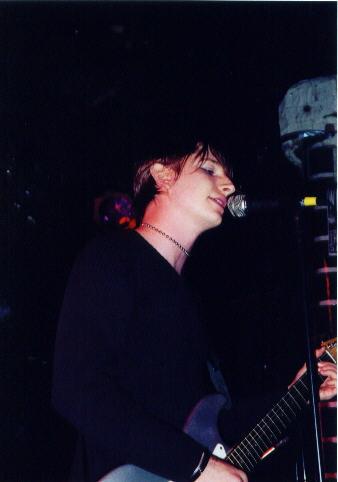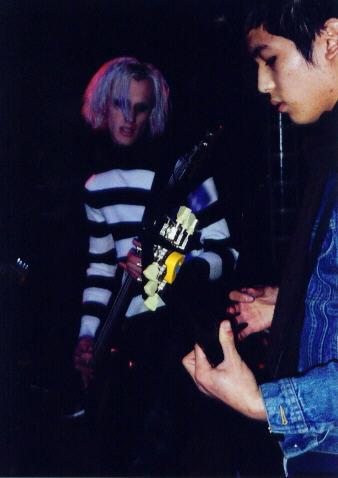 Cirkus Pandemonium: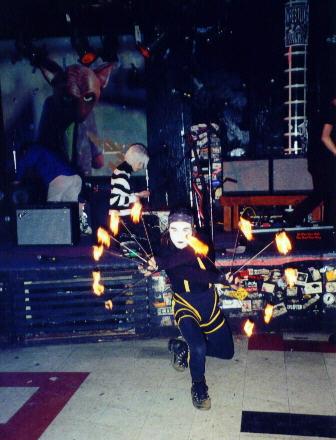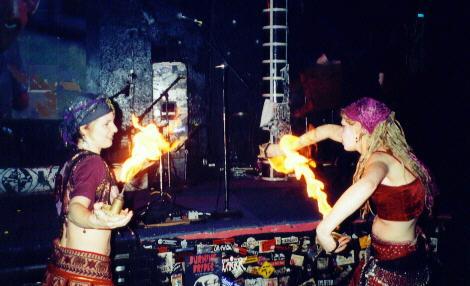 Julian Tulip's Licorice: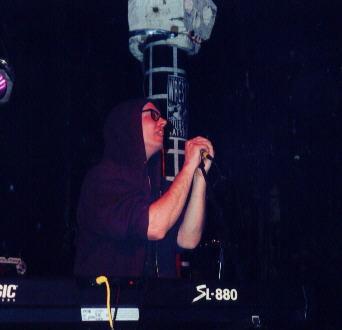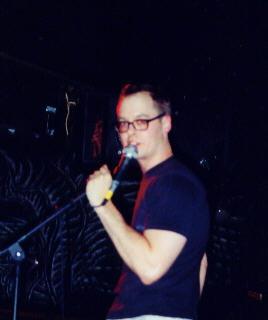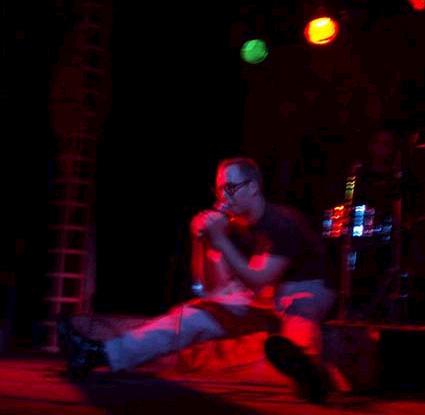 Starting off this Tuesday night showcase is Atom Sane, "Real Rock-n-Roll since 1994". I have had the pleasure of catching many a performance by Portland's Atom Sane - as far back as Mt. Tabor circa 1996 - and frontman Jason Sane continues to remain the focal point and dynamo behind the band. Jason's rock and roll moves are now legendary in my mind - as I even remember his shiny nipple ring from that first performance oh-so-many years ago. Tonight is no exception, with the band blazing through such songs as "Soaked" (title track to Atom Sane's debut full length), "Bigger Than That", "Stable To Be" (title track to Atom Sane's newest release), "Falling To The Side", "Blink", "Soothe", "Poopy Pants", "Strapped", "Blind Reflection", and a twisted version of Radiohead's "Creep". Jason's "rock-and-roll leg-shakes" prove once again why he is the center of the show; but comradery between band-mates also keeps a smile on my face, as Jason even plants a big kiss on his band-mate at the end of "Creep", the finale of their set. Tonight's lineup also includes percussionist, Chris; guitarist Larry Hardesty; and bassist Chad Ipox (filling in for vacationing bassist, David Baker - aka Cornbread)... and many thanks to photographer Jon Hall who took these awesome photos of Atom Sane! Let's hope Atom Sane continues to shake things up with their "real rock-n-roll" for many more years to come.

Next up is Railer. My boyfriend has been singing the praises of Railer since he first saw them at new band night at Satyricon on October 27th, 2002. I heard their CD, "Frame of Mind", and felt this would be a fun band to see "LIVE"! And live is where Railer shines. Vocalist, Randall, is the dreamy rock and roll boy guaranteed to make hearts flutter; Zev is the beautifully androgynous bassist; guitarists Andrew and Rey looked almost Anime; and drummer, Jason, keeps the rhythm rocking. Railer's set includes many tracks from Frame of Mind such as "Deja Vu", "When I See You Again", "Blues Verses the Stars", "A Part of You", and my faves (and most certain hits-on-the-horizon) "Crossing The Line" and "Kiss Fix". Keep your eyes and ears on Railer, because they are definitely going to attract lots of attention with their catchy tunes and lively stage presence.

As Railer moves their equipment from the newly carpeted stage of the famous Satyricon, Cirkus Pandemonium entertains the crowd with belly dancers and a spectacular fire exhibition. Also, photographer Adam Michaud (http://nwi.glabrous.net) has set up a photo-shoot, taking digital photos of attendees.

As the kerosene from the fire performance dissipates, Julian Tulip's Licorice takes the stage. Julian's blend of spoken and sung word, accompanied by keyboards, is always a brilliant show (as I have been fortunate to have witnessed before); but tonight he has added drummer Nolon Ashley as accompaniment - fantastic! Julian performs many of the songs from his latest release, "Umbrella Party", including my favorite "Dolls Aren't Supposed To Bite". Tonight we get a glimpse of a more animated Julian Tulip - as he dramatically gives life to his unusual cast of characters through expression and movement, as well as through music and prose. Perhaps it's the beer talking by now, but I also notice that Julian's lean frame is incredibly buff tonight - muscles flex and move under his sweatshirt and t, giving his movements an even more impressive flare. My favorite part of Julian's set is when he goes "unplugged" and sings a beautiful version of "April Needs To Be Kissed" using keyboard & vox. Julian's eclectic set list also includes "Wish", "Soup", "Curl", "My Invisible Ashtray", "Crumb", "Scissorkiss and Sugartit", "Another Wish", "Amanda's Room", "Improv Spoken Weird", "Another Morning to Burn", "Taxis are Fun", and "Oh". Julian informs me there are to be more shows - and more twists to his set - on the horizon. I am looking forward to experiencing each and every one of them.

What a night! As I said to our lovely DJ for the evening, DJ Curatrix, "don't you just LOVE gorgeous rock and roll boys!?" I mean, what else can keep a girl up so late on a Tuesday night? Fabulous music and gorgeous performers... but that wasn't all! The evening was kicked off by a "networking" party before the doors of Satyricon were even open. Several local band members (including NotLongAfter - http://www.notlongafter.com); photographers (http://www.razorwire.net); representatives from Polar Bear Vixen (http://www.polarbearvixen.com), In Music We Trust (http://www.inmusicwetrust.com), Gothic Beauty (http://www.gothicbeauty.com), and Vagabond (http://www.grooveordie.com) magazines; multi-media (http://www.strangehighway.com); and even enterainment attorneys (http://www.davisdixon.com), were called to assemble at Satyricon by resident sound-man Marty V. ([email protected]), and Nocturnal Movements' Jett Black (http://www.nocturnalmovements.net), to discuss the "state of the scene", and to offer support and network opportunities for Portland talent.

Well, I think Marty's "mission statement" sums it all up nicely:

"PDX local Showcase, Showcases new up-and-coming Portland Artists, and Artists that have given Portland a rich musical history, whom continue to share their music with us.

The show is about Promoting and spotlighting artists, cultivating musical talent, and allowing the Portland music scene to flourish. It goes beyond Genre, it goes to the heart and soul of music, and whatever form that music comes in. It also gives the opportunity for musicians to network together and to get to know each other. It gives the opportunity for the Portland Music Community to grow srong, combining many forms of artistry and bringing them closer together.

Many forms of media are available, and are strongly encouraged. There will be interviews, cameras, new music to preview and much more. The opportunities are endless. But most of all, good music,people, drinks and food. And the cover is only 3 bucks. Come join the party."

Thank you, Marty! These PDX local showcases are slated to be a monthly event, so check your listings and mark your calendars, and be there to join in on the fun. Satyricon is rich in history, and is the backbone of Portland, Oregons' music scene and beyond. Support your local music scene!