INTERVIEW: Tsunami Bomb
California's Up and Coming Pop-Punk Threat (Kung Fu Records)
By: Chad Roskelley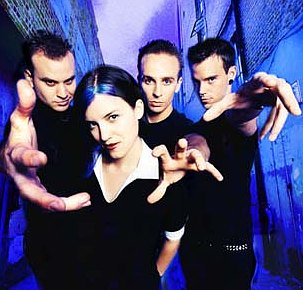 Before going on the Kung Fu Records tour with Audio Karate and The Vandals, Tsunami Bomb took a quick trip to headline a small tour pushing their first full length album, Ultimate Escape. After the show they spared us a few minutes for our questions; here's what they had to say.

IMWT: How long have you guys been together?
Agent M: About four years, we've been touring for about three; not solid though.

IMWT: How did you all know each other before starting the band?
Dominic: We knew each other mostly through a variety of bands; a large group of friends that made up the scene in the North Bay. We were all kinda part of it and associated, so we kinda came together. That's the easy way of explaining it. And Mike was our little miracle from Texas.
Mike: I met them through a band called Lucky Strike.
Dominic: So we kinda came together that way, we did shows together and planned to take over the world.

IMWT: How many bands had you guys been in before?
Agent M: My third band.
Dominic: My fourth
Mike: My third.

IMWT: How did you guys know this is what you wanted to go with?
Agent M: None of our other bands ever made it this far.
Dominic: This seems to be the winning one.

IMWT: Is this what you want to do when you grow up?
Agent M: Yes.
Dominic: Yeah.
Mike: Yeah.
Gabe: Maybe.

IMWT: Have you guys grown up yet?
All: No!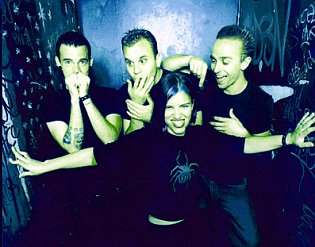 IMWT: How do you guys like being on Kung Fu?
Agent M: It's awesome!
All: Love it!
IMWT: Do you have any plans to re-release your previous seven inches?
Agent M: A: Eventually, we'll probably do them on CD to cater to the people without record players.
IMWT: How was Warped Tour?
Dominic: Fun, Ho!
Agent M: Awesome!
IMWT: Is that like work for you guys or just hanging out with friends?
All: It's both.
Agent M: We get to meet a lot of really cool bands on tour and make a lot of friends with the staff.
Mike: But it's like work because you have to be there at eight in the morning.
Agent M: It's like 8am-10pm, and then you drive for eight hours.
Mike: It's really long hours.
Dominic: You don't sleep much in this work.
IMWT: Who are some of the favorite bands you've toured with?
All: Vandals.
Dominic: The Aquabats.
Agent M: Living End, Flogging Molly, The Eyeliners, Counterfeit.
Dominic: If you count warped tour, there's a lot more.
IMWT: How many additional people do you guys tour with?
Agent M: The most we've ever brought were two crew. On this tour, there are only five of us total.
Dominic: The most we ever had was five people in the band and two with us.
IMWT: What are you most favorite and lease favorite aspects of touring?
Mike: Having to do laundry on tour.
Dominic: Lifting heavy things every night.
Agent M: Breathing in excessive amounts of smoke every night, for me. I love it when venues are non smoking.
Dominic: You get to go to cities everywhere, for us now it's getting to the point where we get to go all over the world and see and meet people. You saw tonight, when you get a show like this, everything bad goes away for a little while and it's all fun. Then you smash your finger loading up and it all comes back to you.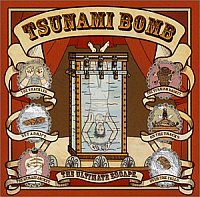 IMWT: Favorite songs on the new albums?
Agent M: They're all so different.
Gabe: I like "Russian Roulette".
Agent M: I like "top 40 hit".
Mike: I think I like "top 40 hit".
Agent M: I need to change mine now.
Dominic: I think mine is not something we really play live much, if we do ever, but "The Simple Truth" is one I really have a soft spot for.
IMWT: If there were a Tsunami Bomb tribute album, what band would cover your favorite song?
Agent M: Oh, that's a good question.
Mike: I think the Living End would do a good cover of "Something Life???"
Agent M: They'd do an awesome job. That's hard.
Mike: I think American Nightmare would do a good cover of "Top 40 Hit".
Dominic: The Velvet Teen would be a good one to do "A Simple Truth".
Agent M: I think Green Day would do a good "RoundAbout".