Beauty In Darkness
Volume 5 (Nuclear Blast)
By: Sonya Brown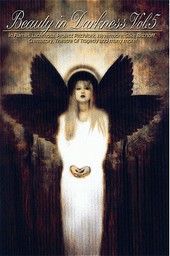 Nuclear Blast brings 16 artists to "Beauty in Darkness Vol. 5". 70 minutes of hard driving videos by artists such as Crematory, Lacrimosa, Project Pitchfork, and many others, encased in darkly angelic artwork (featuring Danielle Bedics) designed by Chad Michael Ward.

The opening video, "Only For The Weak", featuring In Flames headbanging and thrashing about an empty warehouse, appeals more to the 20-something modern metal crowd than it would to perhaps fans of Iron Maiden and Black Sabbath.

Theatre of Tragedy literally drives in next with "Machine". Fun in the desert with off-road remote toy Jeep and mach-man. Sparring male and female vocals tell a story of the neverending machine, and how this machine forces a relationship of "ships passing in the night".

Other highlights include:

The 69 Eyes performing to a backdrop of lush red drapes. With a voice like that, what else do you need? Fans of Type-O Negative take note.

Crematory's demonic "fallen angel" visuals. Sexual and intense.

Lacrimosa performs truly live, and the Victorian-Goth make-up, clothing, and hairstyles brings Roz Williams to mind. One of the more romantic tracks on this collection.

Silke Bischoff opens with a Franz Kafka quote, and then drops you right into the delirious hallucinations of insomnia with "Felix In The Sky".

Project Pitchfork brings forth heavy multi-cultural religious symbolism with "Existence". Religions clash, mirages appear & disappear, and knowledge is passed. "Don't close your mind anymore."

My favorite, Lucifire, comes on thin, pale and gorgeous with "The Pain Song". Visually and musically flawless, this video will stick in your head and stay there forever. Damn, that accent gives me the chills! "Don't be Afraid".

London After Midnight gives us a "Kiss". Pretty boys in tight pants, with hair to die for, perform for fans writhing in see-through fashions.

This DVD rates an A.