The Possibilities
Way Out (Parasol Records)
By: Alex Steininger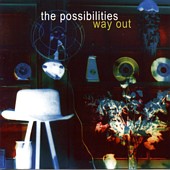 A long time favorite of Scott McCaughey's (Young Fresh Fellows, Minus 5, R.E.M.), Athens, Georgia's The Possibilities latest Way Out proves why the influential musician is such a fan. McCaughey even recorded The Possibilities' "You Don't Mean It" and performed it on Conan O'Brien's show with his band the Minus 5. The reason is simple. They blend 60's psychedelic-rock into their 70's AM radio flavor, injecting everything with a fierce knowledge of power-pop, while somehow staying true to their southern roots.

Way Out is a warm, rich, melodically sound recording, the type of record you put on and instantly cuddle up with. There is not a growing on you period. The first song hooks you as much as the last, and every song in between keeps you listening, hook for hook, with rock beats next to vocal harmonies and charged rhythms sitting atop beautifully layered sections of oft-lush creations.

At times the songs are very saccharine, but avoid becoming annoyingly so with a few less-than-polished rock attacks that shakes things up and keeps the pop from falling into a mundane state. The band knows when to make you swoon over its gorgeous pop nuggets and when to let go and get you rocking out to straight up power-pop. I'll give it a B+.