The Posies
Nice Cheekbones and a Ph.D. (Houston Party Records)
By: Alex Steininger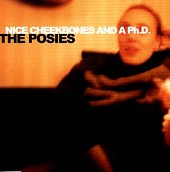 The Posies' latest, Nice Cheekbones and A Ph.D. continues on with the latest Posies incarnation, Jon Auer and Ken Stringfellow going at it with acoustic guitars, rather than blazing electric ones.

The lead track, "Matinee" is a perfect example of acoustic pop. The vocals are soaked with a midnight buzz, while the wall of noise that would have been backing the vocals becomes loud strumming on the acoustic guitar. Light percussion backs everything up sweetly, giving the song a fresh, morning breeziness to it.

"Chainsmoking in the U.S.A." is a dark, moody acoustic number. Though, even when they keep things dark and smoky, pop is still a very big part of the process. The warm glow of the keyboard adds some sunshine behind the clouds, and the additional use of distortion on an acoustic guitar adds a harder edge to everything.

"With Those Eyes" slows things down a bit, allowing you to soak everything in with its dark, winding mood. "No Consolation" reminisces on the past. The song sits you down and through the story it tells, keeps you firmly planted in your chair, attentively listening to the everything as the singer recalls and retells his feelings.

Then there is album closer "Lady Friend," an upbeat, jangle-y pop beat that keeps the Posies trademark darkness in tact while forging ahead and creating a swooning, lush pop song with limited instrumentation. The main forces here are the lush vocals and sweet vocal interplay. Soon to be a Posies classic.

The Posies keep re-inventing themselves. Though some may doubt the authenticity of The Posies as a two-piece traveling solo acoustic act, albums like Nice Cheekbones and a Ph.D. prove the band is still making worthwhile music that many will enjoy. So, forget about the rock you crave from them and give their new direction a listen. I'm sure you'll enjoy it. I'll give this an A.