INTERVIEW: Audiovent
Knight My Fire...Audiovent are knights unto themselves
By: Randy Harward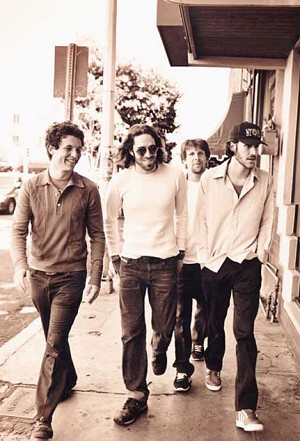 (Previously published in Salt Lake City Weekly)

Dirty, Sexy Knights in Paris.

It sounds like a gay porn flick, not an album:

See Jason and Benjamin and Paul and Jamin doing naughty things to each other underneath the Eiffel Tower with their "?clairs."

Surely, some reader has been titillated by the description, in which case, he'll be disappointed to learn Dirty, Sexy Knights in Paris is actually the same foursome...last names Boyd, Einzinger, Fried and Wilcox; collectively known as Audiovent...dishing up the rock and roll equivalent of home cookin'.

"I know what you mean, man," laughs lead vocalist Boyd. "[The title] just came out of one long night of trying to think of album titles. We're still laughing about it." He pauses, and offers the aside/alibi, "We've never been to Paris. We've been to Paris, Texas--that's as close as we've come. But one of these days [we'll go]."

It's very possible, you know. The Calabasas, California quartet begins its major label existence at an advantage (although it may be viewed as a curse): Boyd and guitarist Einzinger have substantial fraternal connections in the biz, which you may have deduced from their surnames. Boyd's brother Brandon and Einzinger's brother Mike sing and play guitar in Incubus. See? It's a great icebreaker, but like any sibling, can be a pain in the ass. Boyd says he gets questions about his brother everyday, but views it as an inevitability, which he takes in stride.

"[There's] nothing I can do about it, you know? I was born to a family of singers. People like to ask about it so I say, "Hey...I really don't see my brother very much 'cause we're both touring. And this is something I would have done anyway and we're both very happy for each other."

The main focus, he says...and this, it always is...is the music. In their official Atlantic Records biography, Boyd asserts that Audiovent is out to "help to bring the rock 'n' roll back." The idea, he says, is to recapture the look, the feel of rock as it was when Jimi Hendrix and the Who and Queen were at the top of the pops. "We look at old footage of Jimi Hendrix and Led Zeppelin and the Who, and that's really what gets us going. We want music to be like that again."

And the crazy thing is, they just may achieve exactly that (well, at least they've managed to take it back to a respectable, 'Stone Temple Pilots in its salad days' stomp). Dirty, Sexy Knights in Paris is undiluted rock and roll; just guitar, bass and drums kicking out the sort of three-chord jams you used to sing along with in the car. Despite the familial connections to the ever popular nu/rap-metal band and having a slew of similar acts as peers, Audiovent has no use for DJs, rhythmic speech or angsty, straight-outta-psychotherapy lyrical themes. Audiovent rocks and means it, and if they accessorize, they do it retro, with full respect to the founding fathers of any genre.

"The stuff we listen to isn't what's going on today. [We listen to] everything from Beatles to Zep to Hendrix--everything from that to old Steve Wonder, James Brown, The Funky Meters-- And I like bands that do something different, that aren't afraid to step it up a notch...Radiohead, obviously, and the Flaming Lips, Shudder to Think-- We just play stuff that comes from our hearts. It's all natural."

Ah, natural music. There was a time when that was all anyone could play. In the current musical climate, though, it might take a hero to set things right. Something in a dirty, sexy knight, perhaps?

"Yeah--you know," mumbles a modest Boyd, explaining Audiovent's goal may not always be its ethos. "Everything's always going to be changing and [we may, too]." The important thing, he says, is "we're just going to stay in it for ourselves."