Sparta
Wiretap Scars (Dreamworks Records)
By: Alex Steininger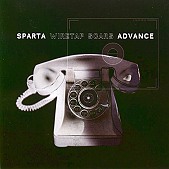 At The Drive-In went out on top, with so much hype from the press and industry, and so much promise at their feet. It seemed like wasted potential. That is, until Sparta came along, featuring members of At The Drive-In.

One listen to their debut EP, Austere, and it was clear that nothing was wasted. And though with Austere Sparta was trying to define Sparta, while living off of the At The Drive-In name, with Wiretap Scars the band comes into their own.

As emotive and bleeding heart as At The Drive-In, and the Austere EP, Wiretap Scars forges ahead, choosing ample melody and more straight ahead rock.

"Cut Your Ribbon" flies high with a melodic hook, pushed by the loud guitars and crashing rhythms. The song cuts its teeth on emo and then expands beyond emo's limitations, redefining the term emotional, while crafting a heartfelt explosion of screaming vocals and modern rock.

"Mye" is propelled by melodic hardcore, infusing hook-laden pop and guitar rock to complete the puzzle, resulting in a radio friendly anthem that hits you straight in the heart before spreading to the head.

"Light Burns Clear" finds the verses and chorus colliding with each other. The verses are settled and gentle, but no less rocking, while the chorus is brought to life by hardcore tendencies.

And then there is the laid back "Glasshouse Tarot", the most melodic hardcore song you'll ever here.

Wiretap Scars picks up where At The Drive-In left off and continues on the same path, though taking it farther than At The Drive-In ever did. This is a solid, reputable rock record that has a lot of staying power. I'll give it an A-.