VARIOUS ARTISTS
Hardcore America: The Reagan Years - First Term (Enterruption)
By: Jeb Branin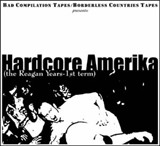 With a few notable exceptions, most of the bands on most of the BCT tapes are ones that have come and gone with little or no notoriety. I daresay that only a mere fraction of the bands on BCT were distinctly remarkable or influential, especially when compared to legends like Black Flag, Crass, Discharge, The Dead Kennedys, Bad Brains, The Circle Jerks, etc. This fact, however, in no way detracts from how instrumental this series of tapes was in bringing international hardcore to "the kids." For many punks, myself included, the BCT tapes were their first introduction to what world-wide punk had to offer. BCT played a significant role in helping to unify international hardcore punk into a scene. BCT clearly demonstrated that the scene was greater than the sum of its parts.

Hardcore was never supposed to be about how many records you sold or how many people scribbled your band's logo on their jackets. It was supposed to be about loud, fast, DIY music that thumbed its nose at conformity. If along the way it made you think, so much the better. To that end you couldn't ask for anything more hardcore than BCT.

Seeing this music made available on CD by small, DIY labels, with the cooperation of Chris BCT himself, reaffirms my belief that hardcore music is one of the greatest styles of music ever. Of course "seeing" these releases doesn't come close to "hearing" them. This is raw, blistering hardcore played the way it was meant to be played. It is as intense sounding today as it was when it was first released.

The latest installment is Hardcore America: The Reagan Years - First Term and features the best bands from BCT #3 and #10. The bands on this one are LOVE CANAL, SUBURBAN DECAY, NO RESPONSE, EAT THE RICH, DRILLS, ACCELERATORS, DISORDERLY CONDUCT, DETENTION, PSYCHO, WHITE FLAG, DERANGED DICTION, CORRUPTED SERVICE, and UNEXPECTED.