VARIOUS ARTISTS
Hangin' from the Devil's Tree (Your Flesh)
By: Alex Steininger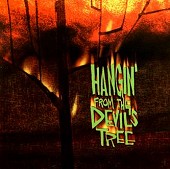 A benefit record for the cool-ass independent publication Your Flesh, Hangin' from the Devil's Tree is a celebration of the indie spirit that has kept Your Flesh going for nineteen years. Entering their twentieth year, they've hit some roadblocks and are trying to recover. One of the ways they plan to recover is by selling this benefit compilation with some of the best hard rock, rock, pop, punk, and indie bands out there.

Nineteen tracks from the likes of Supersuckers, Monster Magnet, Bardo Pond, Bell Rays, Thurston Moore, New Bomb Turks, and Rocket from the Crypt, the album is a rock 'n' roll collection of the art in all of its form. From the powerhouse of Supersuckers to the metal-soul-punk of the Bell Rays to the freaky experimental meddling of Bardo Pond, this covers a lot of ground quite well.

If it weren't for zines like Your Flesh, independent music would never have thrived for so long. Luckily, suckers like Peter Davis have toiled away, broke and loving it, giving music fans what they want. Maybe Peter thought once or twice he should be a banker (a lot more money is in that field, for sure). But, what is the fun of that? Pick up a copy of this compilation and buy it. You'll feel cleansed and new for helping out the cause. I'll give it an A.