Pornucopia
Why Lesbian Porn Is Superior To Trad Hetero Smut (adameve.com)
By: Dr. Knob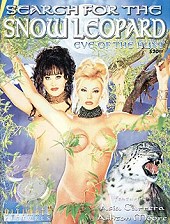 Submitted for your approval: that all porn flicks move to exclusive lesbian scenes.

After all, the only johnson I care to view is my own, and it is, by my own admission, not a stimulating sight. Think about it: it's bulbous. It's got unsightly greenish-purple veins and one unblinking eye, which doubles as a spewing orifice. Not only that, but the male porn star, cock aside and separating them from "civilian" males, is a goddamn eyesore.

Come on: have you ever seen a guy porn star who looks or behaves in a manner even remotely cool? The fact is no guy can look cool when he's fucking. It's just genetically impossible. We're big, dumb monkeys. Offer us a tight wet hole and we're happy to insert our stupid, throbbing joints/fingers/tongue. There's simply no finesse, no artistry (try as we may). Sure, self-proclaimed "cocksmen" will beg to differ, but it's really true: us guys are bumbling idiots in the sack and to watch ourselves (or, rather, a representative of our gender) make fuckfaces with already ugly, often-mustached mugs while basting the behind of a lady who, let's face it, would be better served by high-minded, courteous, creative lovers such as ourselves, is repulsive.

Much better to watch two ladies, who are much more pleasing to the eye (except for those red-assed, stretched-out, fat-lipped skanks some porn pushers try to pass off as attractive).

Further, women have an intrinsic appreciation for the female form, as well as an in-depth (pun intended) mental schematic and manual. They know where to go, and what to do when they get there. They move with grace, even in the throes of a mind-jiggling O. They convey their appreciation of each other's pink delights much more eloquently...amazingly, even when grunting (except for Teri Weigel who, while attractive, kinda barks when she's hot. And that's just gross).

Now, in assaulting the intelligence of the male porn star, I'm not making any claims as to the I.Q. of the lady starlets. It just doesn't factor in. To which, I suppose, a woman might say the same for the "good-time hoes" us guys wanna watch dyke out. Which, naturally, would render this entire column moot...unless it gets more chicks to eat a box lunch.

That'd be pretty cool.

***The DVDs (except where noted) which influenced this column are as follows: The Flesh Game (very nice, very long girl-girl scene), The Sweetheart Trilogy (VHS--lame title, but one of the best lesbian scenes ever!), Deep Inside: Devon (good girly stuff, with four bonus lez scenes...all quite good), Ultimate Firsts (a compilation of porn starlets' first scenes, including Jenna Jameson's first lesbian scene, which isn't all that--), Sex Across America 7: Los Angeles (no lesbo stuff, aside from a three-way with minimal camera time for the girl-girl stuff), The Search For The Snow Leopard (awesome sapphic orgy) and Naked Hollywood 8: Women On Top (VHS--crap girly scene--weak "Sex In The City" premise) All available from Adam and Eve at www.adameve.com).