Poster Children
Zero Stars (Champaign International Pictures)
By: Randy Harward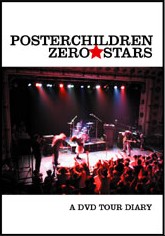 As per their recordings, this DVD...part concert, part comedic chronicle of band life...was produced, filmed, et al by the band. And damned if it's not a fine release, further illumination of Poster Children's humor and talent (the merch scene, as well as the scene where the band goes to a fan's home to crash, is hilarious...probably scripted, but nonetheless funny).

Buy it now. Well, wait. Here's one complaint/caveat: the sound is too much for most TVs to handle. In order to not blow your speakers, turn the TV down and run it through your stereo.

Extras: "Strange Attractors" (live), "This Town Needs A Fire" video, commentary, outtakes.