Radar Brothers
And The Surrounding Mountains (Merge Records)
By: Alex Steininger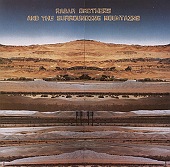 Folk-tingled low-key pop songs, basking in the heat of the day. They roll down a dusty trail, singing to themselves and making good company to the desert that surrounds them, the songs found on And The Surrounding Mountains, the latest from the Radar Brothers, are not flamboyant or pushy. Instead, they prefer to just linger, hovering around you with their acoustic-guitar led tunes fleshed out by bass, drums, piano, and synthesizers.

The songs are strong, and they know it, so there is no need for them to be in your face or force you to listen. Once you snag yourself on something, whether it is the slumbering vocals, the warm melodies, or the raindrop percussion that catches you, when it does you become a fan, listening to the album from start to finish and scrambling to listen to it again and again.

These are lush, worn pop songs that sing to you, and you can't help but listen. This is pop in its purest form, honest, with integrity fully intact. I'll give it an A.