Radar Bros.
The Singing Hatchet (SeeThru Broadcasting)
By: Alex Steininger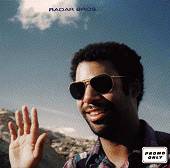 Recorded in a converted 1920's garage with plenty of vintage gear for a very vintage, yet modern sound, THE SINGING HATCHET is a blissful pop record that shines bright with heritage but isn't afraid to step out on its own and tread new waters either. It is simply a delightful pop record that will warm your heart, mind, and soul without even a second thought.

"Tar the Roofs" is lead by the faint footsteps of the piano and the sweet, gentle vocals. A breezy sound blows through the background while the piano keeps the slow pace alive and kicking. Filled with delicious pop hooks, the song quickly draws you into the album and just won't let go.

"Shoveling Sons" takes on the same face as "Tar the Roofs," except this time around the acoustic guitar leads the way rather than the piano. A light, bouncy rhythm sections fills out the song and brings the bright, stunning pop hooks to life.

"Find the Hour" is another prime example of what this band is all about. The down home feel is brought to life with the light sparks of the cymbals, the tricking of guitars, and gentle sway of the song coupled with the easy going, soft vocals which give the song a voice.

"The Pilgrim" and "To Be Free Again" are more prime examples of just what the Radar Bros. can do. But, to be honest, any of the twelve songs on this album will make you realize what good pop music is and why vintage is in. Not a hair out of place, you'll fall victim to this sweet gem too. I'll give it an A.