INTERVIEW: Goldfinger
New Album, New Label, New Goldfinger (Goldfinger's web site)
By: Alex Steininger




"It's a chameleon of a record. It's not a Queen record," say John Feldmann, front man for Goldfinger, on their new record, Open Your Eyes. "It is what we do. Our strongest points are our melodies and our weakest points are the lyrics. I always say that because it takes me so long to write the lyrics.

"The album is a It's a dash of reggae, some nu metal jokes, humor, and good pop love songs. I just hope this record doesn't bore people."

Open Your Eyes is Goldfinger's strongest record to date, a melodically pleasing, fast, crunchy pop-punk record that will appease long time fans and should win over plenty of new ones.

The title track and first single off the record, "Open Your Eyes," is a graphic depiction of the unfair treatment of animals at slaughterhouses. The line "a shot in the head, so you can be fed, just wake up, wake up" rings throughout the song, as Feldmann informs listeners of the cruelty to animals that goes into meat and poultry products at the factory.

"The last three years I've got into animal rights," he explains. "I've been a vegetarian for five years, but in the last three years I've really researched and learned a lot about how cruel animals are treated."

He pauses, and then makes it clear they're not a political band, but do want to mix in politics in digestible amounts.

"I don't wanted to be a preacher. We'll never be Fugazi, but I realized that people will listen if I'm on stage singing about it," he says.

"We're a pop band. I love pop songs. I couldn't make a Goldfinger record without the melodic love songs. Then you have a few political songs.

"I want to educate as well as entertain. It's a hard line to draw, especially since I'm a very obsessive person.

"A few political songs didn't make the record for one reason or another, one of them being that I wanted to be able to draw the line and make sure it wasn't becoming an album that was preachy.

"I got into animal rights and got educated. I did research on slaughterhouse duty and now I speak for people that can't speak for themselves. But, we'll always do both sides of the coin, because I can't imagine not writing the cheesy love songs next to the political songs."

"Open Your Eyes" is not the only political song on the album. "Fuck Ted Nugent", the album's closer, ends the album with a bang, shooting off a big 'fuck you' message to the Motor City Madman.

"Another very political song on the album is 'Fuck Ted Nugent'. We play that at every show, and before we play that I give a little speech about why I won't eat meat and why the song is called 'Fuck Ted Nugent'."

Open Your Eyes is not only Goldfinger's first big political statement, it is also their first album without co-founding member Charlie Paulson.

"Having Charlie leave the band helped me have free range on production," says Feldmann. "Our love of The Replacements is how Charlie and I hooked up, but his favorite bands are AC/DC, Led Zeppelin, Guns 'N' Roses, and Kiss.

"We just come from different schools. He likes hard rock that doesn't have much to say other than talking about partying and women every album, and I like bands with lyrics.

"We bumped heads a lot, because those were his favorite bands."

Compromising for his friend, Feldmann soon realized that he and Paulson had different visions for the band, and it was apparent after Stomping Ground, the band's third full-length, that Charlie wasn't having fun anymore.

"He threatened to quit the band if we didn't put 'Carry On' and 'Bro' on Stomping Ground, both of which I can't stand," Feldmann states firmly. "There are really only four songs on Stomping Ground I like."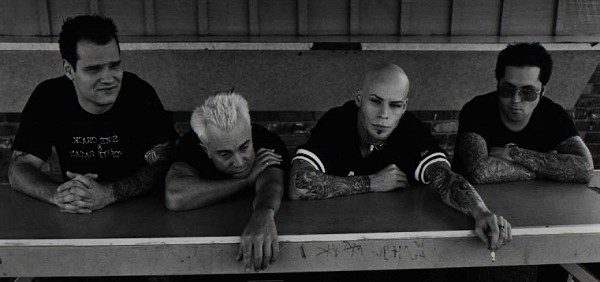 "We're still friends and we talk every day," Feldmann says of Paulson. "Don't get me wrong. I'm not dissing him. We just work better apart. He's so much happier now. He doesn't like pop-punk."

The past year has been the year of departures for the band, which said good-bye to longtime label Mojo Records and hello to new label Jive. Jive bought Universal's Mojo imprint and still use the name, but Jive, not Mojo's, team now supports Mojo.

"It's night and day," Feldmann says of the differences between Mojo and Jive. "Mojo wasn't really ran like a business, where as Jive really has everything in order."

"'99 Balloons' was used in an Olsen Twins film without our knowledge or consent," says Feldmann, still quite unhappy with Mojo's use of his songs. "After that, I knew I'd never do another record with Mojo. I said I'd break up the band before I did another record for them."

Soon thereafter, Feldmann and the band hit his home recording studio, where Feldmann acted as the studio engineer, producer, and the mixer of the album that would eventually be Open Your Eyes, an unheard of move for an artist at a major label. Where most bands would have to fight to produce themselves, Feldmann's choice to engineer and mix the record would leave any label heads shaking their heads no.

However, his decision to not record for Mojo, coupled with their financial troubles, worked to his advantage.

"I never got consent to do a record on my own," replies Feldmann. "The record was almost done by the time Mojo was in talks with Jive to buy the label. So it wasn't 'can he do it?', it was more like 'here is what I can do' and they loved it and believed in the record."

"I don't want to sound pretentious," he continues, "but I know what is best for my band and what's best for the songs. The last three records, we bounced off other people.

"Prior to Open Your Eyes our first record was our strongest, and I did most of the recording and engineering for it (though it doesn't say that in the booklet). I didn't know all the technical stuff back then that I do now, either.

"And with Stomping Ground there are only three songs we could play live. With Open Your Eyes I knew what I wanted to accomplish and said 'fuck it' and did it. Anyone else would have diluted my vision."

One of Feldmann's goals of Open Your Eyes was the ability to play it live, something that has always bothered him about Stomping Ground and its inability for the band to make it sound good live.

"Our first record came close to being able to play it all live. 'King For A Day' never sounded that good live, but the rest of the songs we could play live.

"On the new record, 'It's Your Life' and 'January', we're not sure how they will do live. The rest I think will work. 'Going Home' is a good four-chord song that just says 'let's go rock'."

How does he feel about working with Jive now?

"Jive has huge, deep pockets," he says quickly. "There is a lot of money there, so they can afford to get us the promotion we deserve and never got from Mojo.

"Jive has something to prove with the rock division. They're know for the Backstreet Boys and Britney Spears, but also have (hed)PE, Reel Big Fish, and us."

We then begin to talk about touring. Goldfinger has always adhered to a grueling tour pace, touring non-stop, something that has helped the band retain and build upon their grass roots fan base that ensures they sell out venues in every town they go to.

"The first three weeks of touring, [Open Your Eyes] wont' be out. Before we play a lot of new songs live, we want them to sink in and give people a chance to listen to them," Feldmann says of their choice not to play new songs for the first part of the tour.

"We're doing two weeks supporting Sum 41, then we're going to do a headlining tour, and I'm getting married in June (Reel Big Fish is playing the wedding).

"July we'll be back doing a headlining tour and we'll do a week of the Warped Tour. Then we're going to do some European Festivals. We've got a shot at doing Redding this year."

"Since 1996 we've been going at our own pace," Feldmann points out. "Being on a new label won't change our touring schedule. If people will pay to see us, we'll keep going out."

And how are fans reacting to Brian Arthur, Charlie Paulson's replacement?

"We played a local show in Pomona and people were yelling 'Where's Charlie?' and flipping off Brian the whole time, but other than that, the reaction from fans has been great."

Taking a breath, Feldmann elaborates, telling me "Brian is just fine. He doesn't move around a lot, but I think he'll start to move around once he's been playing with us. Our first year of shows Charlie didn't move at all."

Talking about the fans and their reaction to Open Your Eyes, Feldmann tells me "People that have been with us for eight years think this is as good as our first record if not our best record."

How he hopes people react to the album? "I want someone to be able to listen to Open Your Eyes and by the time it ends you want to play it again."