INTERVIEW: Goldfinger
Pop-Punk Mainstays Get Heavy And Fast (Mojo Records)
By: Alex Steininger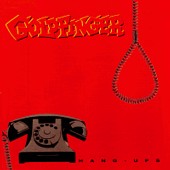 It's been three years since Goldfinger followed up their self-titled debut album that spawned the MTV smash hit "Here In Your Bedroom" with Hang-Ups, an album that once again found the band fusing a love of pop and a punk upbringing together.

Now they're back with their third full-length, Stomping Ground; a lot heavier and more punk driven than in the past, while still delivering layers of melodic, hook-laden guitars, Stomping Ground re-enforces the band's punk rock roots and pop tastes.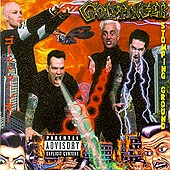 Prior to the release of Stomping Ground the band released Darrin's Coconut Ass, a cover album showcasing the band's diverse influences. From The Who and Joe Jackson to The Police and The Specials, Darrin's Coconut Ass prepared fans for the release of Stomping Ground. It is also the final memory of former bass player Simon Paulson's tenure in the band, who was replaced by ex-22 Jacks' bassist Kelly LeMieux.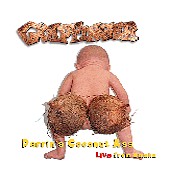 "We let [Simon] go on more or less good terms, so it was his last hurrah with the band. After [Darrin's Coconut Ass] we worked on the new record with Kelly, and we didn't want to backtrack and put something else out later with Simon on it," explains guitarist Charlie. "The title was Simon's idea," he continues. "There were pictures of Simon in there; and it was an official goodbye for him".
"I had actually filled in for Simon before; a few years ago. He went home to New Zealand for a wedding, and it was Christmas. I was in the 22 Jacks, and we were touring with Goldfinger, so John and Simon asked if I'd fill in for him," states bassist Kelly LeMieux on playing with Goldfinger prior to joining the band.
Kelly quickly follows that up with why he decided to join the band: "I already knew the songs, so guess what?"
With a new line-up and a new album on the horizon, Goldfinger forged ahead and continued to do what they do best: rock!
"We're so much fucking tighter I can't even tell you," Charlie comments on the addition of Kelly. "[He] has definitely raised the bar of musicianship in this band because he is just fucking ill. He is by far one of the best bass players in LA. When he first started playing with us, I would tell people that LeMieux was our new bass player, and whether they knew who the 22 Jacks were or not, or if they weren't even involved in the punk scene, people knew who he was."
With a harder-edged brand of punk strapped on the back of their pop hooks, Stomping Ground finds Goldfinger delivering their loudest, fastest album to date. Fourteen tracks of pure punk venom and pop charm, the aggression and angst the band has put a smile on in the past once again glows with fiery intentions.
"I don't think the people who actually know Goldfinger pigeonhole us as a ska-punk band," points out Charlie when talking about people's perception of the new album. "We do get pigeonholed in the press, to a certain extend. Like this review we got in a magazine recently. They gave us album of the month and a completely raving review. But, the first sentence of the review was 'Goldfinger's ska-punk influenced' blah, blah, blah. And there wasn't even a second of ska on the new record. I mean, I was like 'thanks for the review, but did you even fucking listen to the record?'"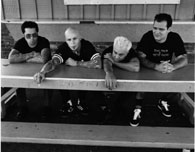 The lack of ska on Stomping Ground points to the development of the band's sound and their growth over the years, rather than a trend-hopping, trend-ditching punk band trying to stay current with the times.
"We've gotten heavier. I think we learned how to work more as a band and not so much as people who are working to support one person's vision," points out Charlie.
"Not that there is anything wrong with that," he continues. "Paul Westerberg was more-or-less The Replacements in at least the songwriting. Same with Sting and the Police. Most amazing bands have one or two team captains. And that's OK. Not everyone is Kiss or the Beatles, where it is four guys. I think we're developing into that more and more, though. John is still the principle songwriter, but [the songs] sound more like we're all playing on it."
From the pop of "Forgiveness" and "Margaret Ann" through the punk of "I'm Down" and "Pick A Fight" to the hardcore of "Bro" and the band's rendition of the 80's pop chart-topper "99 Red Balloons," their ability to work in a group environment is clear and conscious, as the band delivers their tightest, most developed album to date.
"It's the best record we've ever made. By far the most consistent," Charlie says with confidence. "It's fat and has a lot of low end, which was missing from our two previous records. And I think bringing in producer Tim Palmer had a lot to do with that. I think it goes a long ways towards us staking out our own identity."
When the subject turns to producer Tim Palmer, Kelly is quick to join in with praise and affection: "Tim is an amazing producer. He is great at defusing bombs. Because, it's inevitable when you're working with musicians and ideas, everyone wants their ideas to be the ideas. So, when a problem would arise, he defused the bomb perfectly and really worked towards the song and not the ego of each artist."
Touring non-stop throughout the spring and summer, just as in the past, Goldfinger plans to work as much and as hard as they can, doing what they love and having a blast. Leaving us with a few more comments on the album, Charlie says with a smile:
"I think it came out as good as it could. When you have five people making a record, everyone has to eat a little shit. And I for one had to eat the least amount of shit on this record that I've ever had to. So, I'm alright with it."