INTERVIEW: King Black Acid
From Soundtrack To The Next Record (Cavity Search Records)
By: Alex Steininger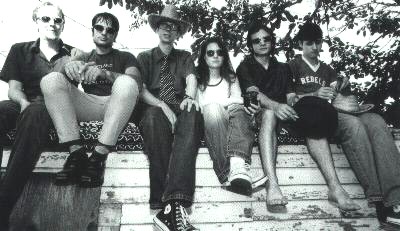 Portland, Oregon's King Black Acid has been around for quite some time, releasing a handful of records on well-respected indie Cavity Search Records (home of Elliott Smith's debut, Roman Candle). Over the years the band has garnered a hard-fought measure of success and recognition; most recently, eight KBA songs appear on the soundtrack of a big-budget Hollywood movie, the Richard Gere-vehicle The Mothman Prophecies.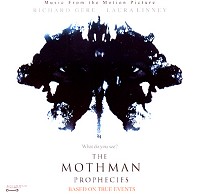 "Lakeshore Records approached us about making a demo for the movie. We wrote a song for a specific scene. They liked the song but were not sure it fit the scene. After a few tries we hit it," says King Black Acid front man Daniel Riddle. "Then we had all these extra songs that fit the vibe of the movie, so we tossed in a few more and made it an eight-song deal. The whole thing happened so fast and so last-minute, nobody is quite sure how we ended up with so many songs on the soundtrack, actually.?
For a band that has been around for nearly a decade, achieving a growing fan base in Europe in addition to its modest draw in the Northwest, money and fame have mostly eluded King Black Acid. One would assume that landing eight songs on a major soundtrack would result in the band members putting some coin in their pockets. But this is not the case, according to Riddle. "No! We made no money off this deal. Any money paid to us went to studio time, engineers, gear, producers, lawyers, shit like that. It cost us money to be on that record. I need a job!"
To understand Daniel Riddle (or to try to do so) is to understand King Black Acid, a band that is known for its long, drawn out space-jam songs, a band that also writes spacey-pop songs clocking in at a short (for them) five minutes.
The group?s songs are slow, methodical, and intricate, able to break away and jam, yet snap back into focus and structure smoothly. They are a group of musicians who know each other and the music inside and out. But for all the intricacy and space-oriented sonic creations the band builds upon, the focal point of King Black Acid, Daniel Riddle, can be a mystery himself.
A mad genius in every sense of the word, Riddle has a great sense of humor and can joke like nobody else. When talking with him, however, you wonder if he's joking around with you or being serious, as he seems to be nothing but serious when it comes to playing music, but talking about his music is a different story.
"I'm not a big fan of 'movies' in general," discusses Riddle while on the topic of The Mothman Prophecies. "I like the idea of the motion picture but the formula used by most if not all of the film industry leaves me feeling less than satisfied."
OK, a serious statement from a serious musician. Then Riddle's humor comes flying at you out of nowhere.
"That being said, I'm a huge fan of any film that uses my music! I looooved the movie! I think it's a film every true American family should own on DVD and video ? soundtrack available on Lakeshore records; this film my not be suitable for minors; now back to your regularly scheduled interview."
Despite being as funny as he is talented, Riddle knows his music and when pressed to talk about it, will freely and openly discuss his opinions and observations to anyone who asks.
"Most of our time was spent negotiating, discussing, debating, arguing, and waiting... lots of waiting," Riddle comments on the negotiations with Lakeshore Records. "We really started our focus on the music at the last possible second. The masters left our hand into an overnight delivery truck while we pulled our hair out and ranted about how we wish we could have fixed that vocal or finish that piano part or re-track the scratch guitars or take the time to mix the damn thing properly! It was crazy. Yes, we did feel like the music was getting pushed aside... it was. Mixing emotionally based art and financially based business together is a very dangerous prospect. It will drive people out of their fucking minds and often times right out of their bodies."
Surely a soundtrack to a major motion picture would propel a band into the spotlight on a national level, with every journalist jumping to find out who the 'new' band on the soundtrack is. However, Riddle doesn't feel this is the case with The Mothman Prophecies, though he does agree the exposure helps.
"I think the focus of the soundtrack was actually the Low song," states Riddle. "It had the 'end' scene in the movie. They are really good friends of the director. They co-wrote the song with the TomandAndy (two guys, one word), the guys who did the score proper. Not to mention that they have huge ?indie cred? and they are a great band. So a lot of the press and hype have not been focused on KBA. It's been on Low or the project as a whole, though there has been lots of positive press that we hope will help expand KBA?s listening audience."
With a soundtrack under their belts, what else can we expect from King Black Acid?
"I'm busy trying to figure out how I'm gonna pay the electric bill and get my teeth fixed," says Riddle, not even close to joking. "The band is busy working on our live show, gearing up for a bunch of small tours, and trying to keep our eyes on the prize. I plan on making many more full length records."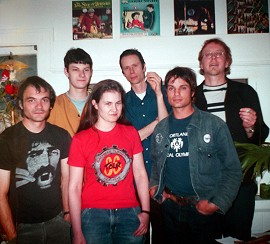 The conversation quickly turns to making records and the cost inherent in recording them.
"I make them as I can afford them," replies Riddle. Loves a Long Song (KBA?s last full-length, on Cavity Search Records) took me a year and a half to make because I made it mostly at home paying for it with my day job and a few bucks from playing shows. I'm often crippled with frustration at the lack of funding and support in the record industry. The Nirvana backlash has really taken a toll on the musical artists who do not project a bubble gum boy band, diet soda, adolescent pornographic image like fake breasts on teenage Mouseketeers on which the listener can float to safety in a sea of new cars, fast computers, red white and blue eatable Olympic underwear signed by Catholic priests immune from aids and prosecution, murder on the news every fucking day and so many products to try... um... what was the question?"
Has Riddle ever pondered the idea of doing a solo record?
"I'm not sure I could stand to be alone with myself long enough to make a solo album," Riddle quickly replies. "Not to mention the fact that I have surrounded myself with musicians who have so much to offer my songs that it would be a crime against humanity to not use them. They are at times just as much 'King Black Acid' as I am.?
I ask Riddle where he sees King Black Acid in five years. Incorporating humor with his vision, he gives me a witty reply, even taking a stab at local press for ignoring King Black Acid, a band that can draw more people to its local shows than any other band in Portland.
"Touring, making records, scoring film, playing shows on the space station, drinking all the pop, playing all the rock, feeling the love...and maybe even getting an article written about us in the local press!"