Pulp
We Love Life (Island Records)
By: Martin Royle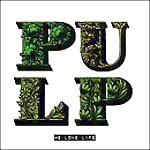 Jarvis Cocker has been up all night, he needs to find you. He's been walking the streets of London, walking into lampposts calling your name, and when he finds you, he going to take you.........walking, along the river. You see, Jarvis just wants to talk tonight, about the trees and the water and the places he's been and how very far it is from right now. Listen close.

It's hard to find an uninspired Pulp song. From "My Legendary Girlfriend"' to this new album, "We Love Life", the band is always on about something. It's usually sex, or at least it's most obviously sex. "We Love Life" has got its idea, not as specific as "Different Class", and also a hell of a lot subtler than the Sex-Epic "This Is Hardcore" (which was genius, british press be damned).

It's about the trees, those useless trees. On this album, nature is compared to a lot of things youth, corruption, struggle, failure, but mostly it's just there, existing alongside people as they live their lives. It's the dirty river that Pulp walks past, thinking of girls, the birds in your garden that gave youthful Jarvis the courage climb into a girls bedroom. But it's more. It's the simple flow of people's ordinary, sometimes violent lives. The song "The Night Minnie Timperlie Died" sums it all up (and should have been the single god damn it). This song, although about a young girl who gets killed by an older man after excepting a ride home, is oddly peaceful. It's not about the fact that this girl was killed by a middle aged pervert, but really it's about the night that she died. It just happened, the motivations of the girl to be at the club are explained and then the motivations of her killer are explained. One can't but wonder if that's Jarvis himself in the car.

"We Love Life" is, of course, really fucking awesome. Pulp as a band is getting gloriously skilled at their craft (one of the best rhythm sections in rock history, I love you Nick), and each track is a wonderful example of a band in their prime. You get the feeling they're getting a little bored making normal music, they do it almost too well. Most bands go to an extreme and then they back off, but I really hope we see Pulp continuing on the path it's on. The bigger the concept, the better for these guys. Seriously lads, make a fully orchestrated movie or something, you know you could. Just please, release it in fucking America next time, I can't keep paying these import prices.