SHOW REVIEW: The Get Up Kids
December 17, 2001 (Vagrant Records)
By: Ghost Writer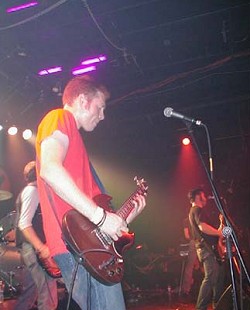 I don't know why a passport isn't good enough to let you drink in a club. Logic does a lot of things, but prevail is not one of them.

All I really know is this: The Get Up Kids play safe music. I would let my 7 year old nephew listen to this. Hell, I might even let him into the pit. But if he was still listening at 12 or 13, I'd lock him in a room with only the Minor Threat discography until he came out not a pansy. I don't know what's more unsettling, the urban-outfitted teens singing along to songs about puppy dogs and the Mass Pike, or the parents outside the show. These parents are, in a lot of ways, pretty comfortable.

Inside the show the crowd is moshing, kind of. Watered down hardcore moves, some push and shove, but no violence. It's self contained.

The Get Up Kids play safe music to safe teens. There is nothing rebellious about these kids. Looking around you don't see anyone, anyone going off the tirelessly beaten path of accepted fashions. No one. Where are the lawbreakers? Where are the kids that you can point to and say, "those are the outsiders, those kids don't fit in"? The lack of innovation is everywhere, from the alt-punk uniforms in the audience to the lack luster Emo onstage (we used to call this stuff 5th generation punk, before it took over the world and mutated into as many as five not so distinctly different sounds. Have you ever had anyone explain to you the difference between Emo and Power Punk? One talks about wanting to fuck girls, and the other talks about not being able to).

So where's bohemia tonight? Not watching The Get Up Kids, or not anywhere? If they are somewhere, what they're missing is a teen mixer, complete with music and a club-like setting. It's 1958. Complacency and comfort, the bass and the snare.

It's no big thing. I'm pleading with a bouncer to listen to logic about the passport. I've got him everything but ready to stamp my hand. He gives me a strange look, a little embarrassed. "I don't know if I can make that decision", he says sheepishly. I back off, I don't want to get him fired.

Tonight, The Get Up Kids play safe music to safe teens in a safe club.