Jenny Toomey
Antidote (Misra Records)
By: Alex Steininger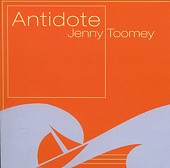 Ex. Tsunami, Jenny Toomey's debut solo album, Antidote, is a two-disc set of hauntingly beautiful, elegant pop songs, fresh and airy, with a quiet, low-key peacefulness to them. Though, even laid back, the songs make a huge impact on the listener, speaking to you in volumes, while Toomey sings as if she's in your living room, playing you new songs with her band before she hits the studio.

Disc one, recorded in Chicago, is an eight-song collection of bouncy, lo-fi indie-pop-folk. Toomey's soaring, majestic voice takes center stage, whether it's singing along with a trumpet or a soft rhythm section, or just her guitar.

Relaxed and carefree, she seems to effortlessly create an album as beautiful as nature. With light percussion backing her up, her guitar is the most prevalent instrument in each song, aside from Toomey's voice. And even the guitar is quiet and raindrop like, adding a hint of atmosphere to accompany Toomey's voice.

Disc two, recorded in Nashville, ups the ante, as Toomey builds upon the first album, retaining a lot of the relaxed, living room recording feeling while offering a more produced, lusher pop album.

Instead of being quiet and quaint, Toomey picks it up a bit, offering stronger pop songs, ones that don't force the hooks on you, but are much more up front about getting you to pay attention. With the help of strings, a boost from the rhythm section, and dark piano, she is able to captivate you once again, this time expressing herself with a less timid emotional voice.

No matter what disc you choose, Toomey offers up picturesque pop songs on both that will dazzle and amaze you, as you listen attentively and nearly fall to the floor in astonishment. She is a true talent, one that has a lot of great albums in her. Now a solo artist, she should be able to find the freedom and voice that being in a band can sometimes squash, and create albums such as this one. I'll give this an A.