Jimmy Eat World
Bleed American (Dreamworks Records)
By: Alex Steininger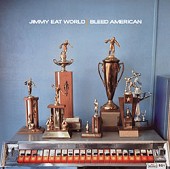 The latest from Jimmy Eat World, Bleed American, is a spastic, blinding rock album. From the sweeping emo hooks to the chaotic, bruising rock charge, Jimmy Eat World delivers one crushing song after another.

The title track is a swift, painless shot of equal parts power-pop, punk, and emotions. "The Middle," is a chunky, climbing pop song that builds from pure sugar to jagged rock, leaving you breathless between the chorus and verses.

However, the band is not a one trick pony by any stretch of the imagination. Hear You Me slips down into a silky, soft pop song, slow and steady, but as emotionally charged and lyrically deep as the songs that knock you out with noise.

Instead of hiding behind the rock, Hear You Me showcases the band's ability to craft beautifully structured pop songs, sunshine melodies, and warm hooks that make you feel important to be here, to be alive.

Longtime fans of the band will be relieved that Jimmy Eat World hasn't lost a step. New fans will embrace the sonic dimensions of a Jimmy Eat World song, from the amped-up guitars and blazing melodies to the subtle beauty they're capable of creating. Here is one of the best albums of 2001, from a band who may have been down for the count several times, but somehow manages to pick themselves up and create blistering songs time and time again. I'll give this an A+.