Jimmy Eat World
Jimmy Eat World EP (Fueled By Ramen Records)
By: Alex Steininger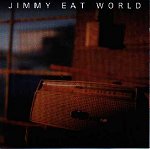 Including two songs off their forthcoming Capitol Records release (CLARITY), Jimmy Eat World has decided to release a five-song EP to tide over fans until the full-length is released in the spring as well as to give fans a taste of the new album.

Playing a mixture of pop, rock 'n' roll, and heavily emo-based, Jimmy Eat World once again unleash a sound that is emotionally furious and heart-felt -- able to rock at times and jump into a soft tone the next. On the disc's opener, "Lucky Denver Mint," they flex their rock muscles and pour out an intense emo-rock number that contains powerful hooks, look-beyond-the-surface lyrics, and a drive that captures the bands' own energy and recycles it to the listener.

Of course, that is just one face of the band. On "For Me This Is Heaven" they show their softer, delicate side while diving deeper into their emo foundation. Keeping the song mild, while maintaining the edge, the drums slow down a bit but keep the meaty beats active. The vocals become higher-pitched, singing elegantly with the music and creating a beautiful array of sounds. The rest of the band keeps the song intense and gentle. A hard task to do, but they seem to not have a problem with it.

The rest of the album keeps within these confines, while always keeping things interesting. They'll sprinkle rock moments amongst their emo sound, while always making sure your heart is the first part of your body to feel and absorb the sound.

A sort-of prelude to their upcoming album, they not only offer up an EP you can enjoy even when the new album is released, but after listening to this disc you'll be very interested in their future material. I'll give this EP a B+.