Belle & Sebastian
Sing... Jonathan David (Matador)
By: Alex Steininger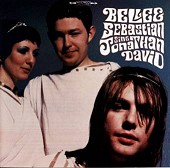 Three new songs from Belle & Sebastian, Sing... Jonathan David includes a brief pictorial take on David and Goliath. Musically, each of the three songs are infectious pop songs, including the ultra jangle-y "Jonathan David," the mid-tempo, bouncy "Take Your Carriage Clock And Shove It," and the album closer, "The Loneliness of a Middle Distance Runner."

Genuine, undeniably enriched pop songs that will stun and amaze, you can't help but want to put this on repeat, even though it's only three songs. And unlike other three song albums, this one doesn't grow old, it just keeps reminding you of how amazing Belle & Sebastian is at creating brilliant, breath taking pop songs. I'll give it an A-.