Belle Academe
Shimmer (Swingerland Records)
By: Alex Steininger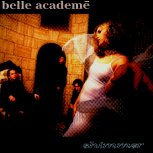 Hailing from Los Angeles, this crunchy pop foursome has the ability to churn out power pop numbers as well as catchy, straight up pop-rock. Led by singer/songwriter Nicole Bahuchet, this group offers relief from the 'modern rock' the corporate world is forcing on listeners.

Crunchy guitars kick off the album, but when Nicole's vocals enter in on "Christine's White Noise" you know the song has begun. The drums hammer away, keeping your feet tapping, while the bass kicks out powerhouse belts perfect to compliment the drums and complete the rhythm section. The guitars give the song the intensity and power that it packs, but it's the vocals that lead the song. With female vocals fronting power-pop like this they're able to keep the music pretty, while still rocking out and attacking the music with such power and aggression. This sort of contrast would be hard to do with most male vocals, and probably a lot of female vocals, but Nicole's beautiful voice pulls it off easy. A great way to start the album, and easily the best track on this CD, no wonder this is the first song they released as a single. "Trigger Happy," my second favorite track on this disc, stays with the power-pop motif. The verses are fairly slow, but still have the thick guitars pushing them, but when the chorus hits the power is really pushed onto the listener, as well as some very catchy hooks that easily find you singing along. Heck, I find this song so easy to sing along with I do it myself. "Truth Is..." shows the poppier side of the band. Still keeping a lot of power to them, this time they rely on bright hooks and beautiful vocals to carry them through, rather than powerful guitars lashing out at the listener. The drumming is nice, keeping the pace light when it calls for it and gradually picking up and adding more and more 'umph!' as the song progresses. The bass should also get some honorable mention, as its tremendous thump can be heard all through the song and makes it what it is. "Sparkler," their next choice for a single, starts off VERY soft, violins and everything, and then busts into some delicious power-pop. Jumping from slow to fast, as they do, has a tremendous impact on the listener. As you sit there and listen in amazement, they start throwing hooks and the chorus your way, which leave you even more amazed. This song definitely has single potential, and I can easily imagine it competing with bands like Foo Fighters and Third Eye Blind on the 'modern rock' charts. "Something New" just keeps the goods coming. Powerfully melodic and catchy, this song once again proves this band has what it takes to be big. The hooks are always plentiful, they always capture your attention within the first twenty seconds of a song, and they never let you down in terms of power and energy. What's not to like about this group? "Pretty Goodbye" slows down the tempo a bit, offering a bass-oriented rock song at a normal pace. It is in settings like these that Nicole truly uses her lovely voice to her advantage, seducing the listener with every word. "Shine" ends the CD, and in true Hollywood fashion, they tune down the energy and pace and offer a number that lets the listener know, "Hey, we had a good time, but the album is now over." Soft and delicate, It fits perfectly at the end.

I love power-pop. There is so much bad power-pop out there that it's always frightening putting in a new band like this and listening to them. To be truthful, after looking at the cover of this CD and the bands' name, I thought this band was going to, well...put me to sleep with music that was so boring and repetitive I couldn't stand listening to them. But once I put them in I was mesmerized and knew I had found something that was worthy of attention. I'll give this album an A-.