INTERVIEW: Patti Rothberg
Rock 'n' Roll Diva Strikes Back, On Her Own
By: Alex Steininger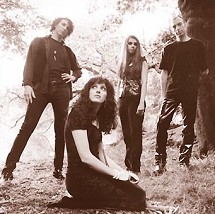 Patti Rothberg achieved mainstream success out of nowhere in 1996. Discovered by a big time manager playing in the subways, she soon found herself signed and on a major label. Shortly after that, "Inside" and "Dirt" started to blow up on radio.

Two years later, Patti was nowhere to be found. Her label folded, and unable to negotiate a new deal, she seemed to vanish, at least on a national level.

With the release of her sophomore album, Candelabra Cadabra, Patti is back in action, gearing up to tour, and ready to take on the world once again.

IMWT: You were riding high with your hit "Treat Me Like Dirt." What happened after the success of that song wore down?

Patti: Interesting. Actually the song that really got the most airplay was called "Inside" although "Dirt" was the follow-up single... Both songs got airplay in 1996 but in different regions, and other songs from the first record, such as "Flicker" and "Remembering Tonight" are still being played in Europe (not to mention Muzak versions in the grocery)...my fave! When EMI records folded in Summer of ? (98 I think) There was no more $$ support, and off I went.

IMWT: Did you think you'd ever recover from one-hit wonderdome and being dropped by your label?

Patti: Was I Really? Being that I never expected ANY hit wonderment, I was happy to learn what I could from the "wonderdome" Being on the kind of touring schedule I was on, 6 months at a time with no break, was truly something to recover from ! Getting the deal was like finding the Emerald city, and hearing of EMI's demise fell similarly into my lap... like the tornado-blown house from the Wizard of Oz. It was a wake up call from a dream and just another opportunity to write more songs, "my pretties"!

IMWT: Was there ever a time when you had self-doubt, that maybe you couldn't recover from being dropped by your label?

Patti: Of course there were moments of terror, mainly imposed by the standards of others. By my own standards I knew that as long as I could have fun and earn some kind of living I'd be alright. The absolute truth of it is, for the record, that I wasn't dropped from EMI. They went out of business, and I wasn't able to negotiate a deal to get on the subsidiary label(s) with former management (diplomatic).

IMWT: After all the dust cleared, what did you do then? Immediately hit the studio or take some time off?

Patti: I took time off, but always continued writing and making demos. I made a vinyl 45 (for those who still own record players) that can be found on Pattirothberg.com. This features songs that aren't on either the 1st record, or Candelabra Cadabra. I started recording the sessions that would eventually become Candelabra in 1998, shortly after I met Freddie (the Producer).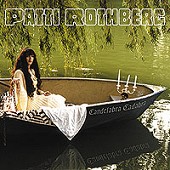 IMWT: Once you started working on your next batch of songs, did you already have Cropduster in mind for a label, or how did that come about?
Patti: I started working on the next batch COMPLETELY LABELESSLY, to take the future sound of "Patti Rothberg" into my own hands. We recorded at a studio in NJ called "Boulevard". After doing only a few tracks, I started playing them for people (friends and "industry folk", some both). This is where we started getting some major label interest. For a cornucopia of reasons, they didn't work out, I saw James Mastro (Health and Happiness Show) at a show in NYC. There, he told me about his label, Cropduster.
IMWT: Where is your career now compared to six years ago?
Patti: Six years ago, (June of 1995)..I had JUST signed the EMI deal in February. My career was all about my FUTURE, marked especially by how many albums I was signed on to make. I was an "unproven" artist yet. Most of the gigs I'd done up to that time were "Open-mics", guitarist for other people's bands, and Busking for fun. It was the songs that must have made a promising case for good CD sales. It had to have been, for I really never played out much... in November of 1996, I had a 5 piece touring rock band complete with Hammond keyboards and a tour bus. The band was put together after the record was made, in order to support it. We had a lot of fun on the road, but there was always this massive undercurrent of "do or die" announced anonymously by way of the manager or by memo. If you don't do this gig...you'll never blah blah blah.
Today, I have an amazing band of 4 including me, I have experience touring and playing in bands, Songs are easier to learn and teach because my vocabulary has improved, from experience. In summation, the more you do, the more you realize you CAN do.
IMWT: Do you ever see yourself chasing down another major label deal or are you content with what you have now?
Patti: I don't think that CHASING a label is what I shall do. I want people to hear the record, so I'll do whatever it takes to make this happen, short of handing my soul to you-know-who on some hot wax (or CD, as is today's popular format).
IMWT: Are you making your living off of music at this point in the game?
Patti: Yes. I also paint portraits and draw caricatures! (See Pattirothberg.com)
IMWT: How do you feel about your new album? How would you compare it and contrast it from your major label release?
Patti: I LOVE the new album. I feel like it was a very important statement to MYSELF, especially looking back on it in its completed state. It is a testimony that beauty is not limited to any one style.
IMWT: Any plans to tour?
Patti: YES!!! My new rock 'n' roll band will be touring starting in mid July!
IMWT: What do you envision for your next record?
Patti: Many of the tracks for the new record are already written, and some even already demo-ed. It will have a "classic rock" feel...hearkening back to the first record at times, while also continuing with the lush and more experimental textures of the 2nd album.
IMWT: With "Treat Me Like Dirt" you were kind of considered the angry-rocker female type a la Alanis Morrisette even before Alanis. How do you feel you fit in to the rock 'n' roll labels these days? And, do you prefer to avoid the angry-rocker female stereotype?
Patti: I feel like I fit into the "rock n' roll" label just fine. My songs are about topics anyone can relate to, which I think is important....but also entertaining for the aspiring cunning linguist. Power chords, melody and sing-along-ability. Delivered without the pretense of sex (male or female in this context) in any direction, just "Balls-out"-rock, and also ballads, and anything in-between. As for the angry-rocker or angry young woman thing, I think it's just hilarious. Ask any self respecting-brow furrowing rocker: Even if the lyrics and mood of a song were created in anger, to personify such an emotion is ludicrous. "whatever you do, don't laugh" is an example of how one might tickle an angry young rocker. They just might crack a smile.
IMWT: Anything I left out you'd like to cover?
Patti: This has been a mighty thorough interview. Thanks for the fun questions, and everyone go to www.Cropduster.com right now for an explanation of Cropduster records, and a copy of Candelabra Cadabra love, yours truly.