Patti Rothberg
Candelabra Cadabra (Cropduster)
By: Alex Steininger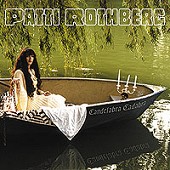 Out of obscurity - the subway - came Rothberg's 1995 hit "Treat Me Like Dirt", a top 40 (or damn near close) hit that was all over the airwaves. Of course, major label turmoil would eventually find her without a label.

On the quality New York indie Cropduster, Rothberg's latest, Candelabra Cadabra is a warm, rich album that travels back and forth between singer-songwriter acoustic numbers, tasty pop songs, and full on rockers.

"Dish It Out" is a powerful, foot-stomping, guitars flying rock number complete with dead-on hooks, strong lyrics, and Rothberg's tough-girl, sweet-to-the-core vocals. "Moonage Daydream" is a dizzy-ing, lush pop song that will kick you with a rocking rhythm section and warm you up with Rothberg's folk-esque touches to it.

"To A Muse" is a bass-heavy pop song that proves this girl isn't afraid, or unable, to get out there and rock you until the bitter end. "Shadows of Me" shows her more sensitive time, delivering a Lillith Fair-esque female singer-songwriter number, primary wrapped around her shining acoustic guitar and pretty-as-a-peach vocals that have just the right amount of sass to them.

Candelabra Cadabra is Rothberg's swan song. It is a testament to the purity and honesty of her music, as well as her ability to craft commercially viable, integrity-filled, thrilling songs regardless of tags or genres. And screw any major label that disagrees. I'll give this an A.